MAN AND ENERGY Part 2: Man the Destroyer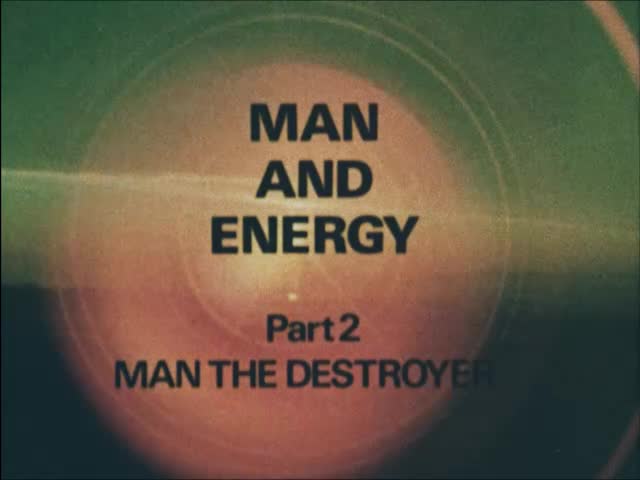 This video is not available to view remotely
Full length video - onsite only
Please read Understanding catalogue records for help interpreting this information and Using footage for more information about accessing this film.
Title: MAN AND ENERGY Part 2: Man the Destroyer
Reference number: 4702
Date: 1976
Director: d. Mike Alexander
Sponsor: Scottish Council for Education Technology on behalf of ICEM
Production company: Pelicula Films
Sound: sound
Original format: 16mm
Colour: col
Fiction: non-fiction
Running time: 19.58 mins
Description: A film discussing the various forms of energy used by man.

See also ref. 4723 MAN AND ENERGY Part 1.
Credits: animat. Donald Holwill
sc. Richard N. Tucker
p. liasion m. David McNiven
nar. Iain Cuthbertson
sd. rec. Ian Leslie
p. man. Jon Schorstein
ed. Bert Eeles
cameraman Mark Littlewood
Shotlist: Title (0.28); steam train passing through station (1.19); factory driven by steam engines, coal being shovelled into a fire (1.48); steam roller, various steam machines (2.28); picture of a small town growing around the coal and water resources (3.45); Monktonhall Colliery (4.30); a coal train, gas pipes and c/u of oil rigs (5.47); oil tankards, oil storage tanks (6.41); man made dam, power station, nuclear power station (7.55); electric pylons (8.15); gvs of machines, energy growth graphs (9.22); vintage cars (10.19); Kingston Bridge (10.27); car increase graph (10.40); steam train (10.52); electric train (10.55); the Waverly ferry, gvs of ships (11.30); jet planes, graph (12.57); Grangemouth (?) (13.25); oil rig (13.40); cost pictures (14.01); demolition of a bridge, houses etc., a derelict mine (14.35); scrap yard (15.32); cyclists (16.03); man measuring a fish he has just lifted from the water in a net (16.50); a machine to measure the energy created from waves (17.23); solar light panels (18.42); ecs (19.02)