WAY AHEAD, the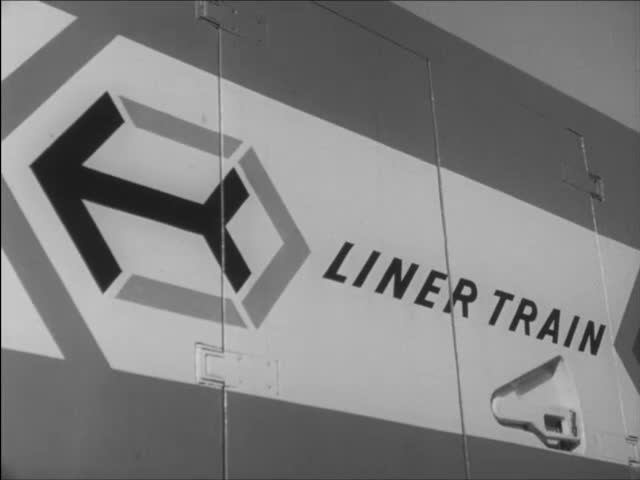 This video is not available to view remotely
Full length video - onsite only
Please read Understanding catalogue records for help interpreting this information and Using footage for more information about accessing this film.
Title: WAY AHEAD, the
Reference number: 4689
Date: 1964
Production company: British Transport Films
Sound: sound
Original format: 16mm
Colour: bw
Fiction: non-fiction
Running time: 26.19 mins
Description: British Rail's freight lines and some of the freight that is carried by their trains. Scottish Region edition.

The British Transport Film Collection is preserved by the British Film Institute.
Credits: nar. Huw Thomas
Shotlist: credits (0.10) introduction from Huw Thomas and Dr. Beeching (2.50) Freight Trends gvs indicating these incl. 50-wagon Esso train, freightliners, prototype at National Physical Laboratory of New Holyhead-Dunlaoghaire car ferry, ferry on Harwich-Zeebrugge route, coal-fired power stations being built, trains delivering car parts from Ford's Dagenham plant to Halewood (8.02) safety gvs of British Rail maintenance men at work and BR's concern for their safety, incl. int. with worker at Pontefract whose friend was killed (14.19) Lifeline to Fort William gvs from a train on this line (14.51) gvs Fort William street and St. Andrews Episcopal Church and int. with Canon G K B Henderson, the town's Provost about the new pulp mill (15.50) gvs construction site for mill accompanied by int. with Dr. Frankl (16.45) gvs of Glen Loy forest which will supply timber to the mill, commentary from head forester with shots of him and his family (17.42) gvs Fort William station with train leaving and int. with Mr Paterson, the stationmaster (19.02) best cellars gvs the British Rail cellars at Derby, incl. 1811 vintage Napoleon Brandy bottle, wines being bottled from barrels (21.22) shots of steam freight trains, and BR's new computersided system of keeping track of wagons from their control centre at Marylebone (26.02) ecs (26.19)