LUICHART AND MEIG; GAMMIES AT NORWOOD STRICHEN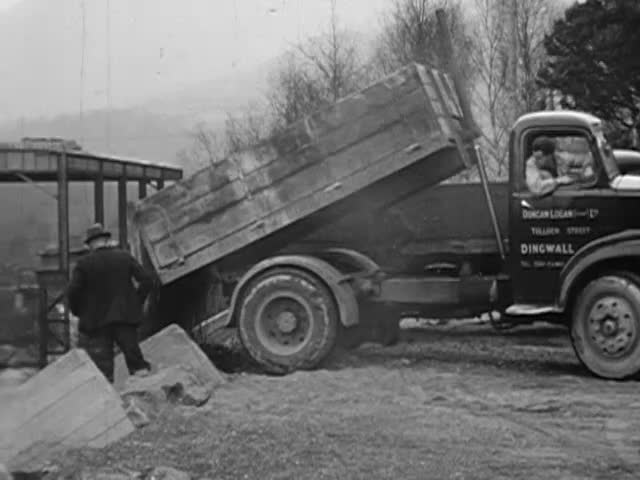 This video is not available to view remotely
Full length video - onsite only
Please read Understanding catalogue records for help interpreting this information and Using footage for more information about accessing this film.
Title: LUICHART AND MEIG; GAMMIES AT NORWOOD STRICHEN
Reference number: 4645
Date: 1951*/1952*
Sound: silent
Original format: 16mm
Colour: bwcol
Fiction: non-fiction
Running time: 27.09 mins
Description: Detailed evidence [mostly in black and white] of the construction of Luichart Power Station and Meig Dam by Logans of Dingwall. Also shows Logan staff working in the office, in the canteen, and workmen at their trades. The film also contains a short colour section of the Logan family walking in their garden.
Shotlist: [b&w] c/u sign reading 'Luichart Power Station and Meig Dam construction' (0.14) men mixing and laying concrete on construction site (1.07) shot of man chipping stone block with hammer and chisel (1.14) shot of men laying bricks (1.30) gvs construction site, including various pans across site and laying of concrete foundations (3.01) shot of dumper truck tipping load of stones (3.21) gvs construction site (4.20) some men inspect site (5.04) concrete is transported and dropped onto site (5.56) men clear debris from bottom of huge 'hole' in ground, includes shot of a man swinging rather dangerously from chain (6.20) gvs construction site (7.43) women walk from kitchen cabin on the construction site (8.28) ints canteen area (8.53) gvs rocks being machined and loaded onto truck (10.06) medium l/s Logan site offices (10.52) man filling up truck at Esso petrol station (11.04) ints several trucks in garage (11.25) part of a hillside is blasted away using explosives (12.11) men and women walk along road on their way to/from work (12.30) shot of rocky hillside, having been blasted (12.42) exts Logan offices (12.56) ints office, showing a woman on the telephone at the enquiries desk and gvs people working at their desks (13.35) exts Logan office (13.55) ints workers canteen and ints kitchen (showing urns etc) (15.18) gvs construction site (16.10) [col] exts Logan family house and gardens, shot of family taking a walk in garden (17.15) shot of fields surrounding house (17.28) [underexposed] exts family in front of house (18.14) gvs construction site, shots of members of the Logan family looking at construction site and lady getting into car (19.57) [b&w] gvs excavation work, including draining of water (21.32) [col] stonemasons at work in yard (22.00) gvs joiners workshop, making window frames etc (22.30) man and three children walk around builders yard (22.54) pan around yard where various trucks, cars, heavy machinery are parked (23.44) power station building under construction, includes pan across landscape as seen from top of building and shot of tunnel (25.08) ints Logan office with people going about their duties (25.51) Dingwall streets and buildings decorated with Union Jacks, including exterior of Logan office (26.36) [BW] shot of projected image of old man using scythe (26.52) signs for construction site (27.09)