BATCHING PLANT CONVEYORS AND EARTH MOVING CONSTRUCTION EQUIPMENT FOR HYDRO ELECTRIC POWER STATION AT STRATH CONON, ORRIN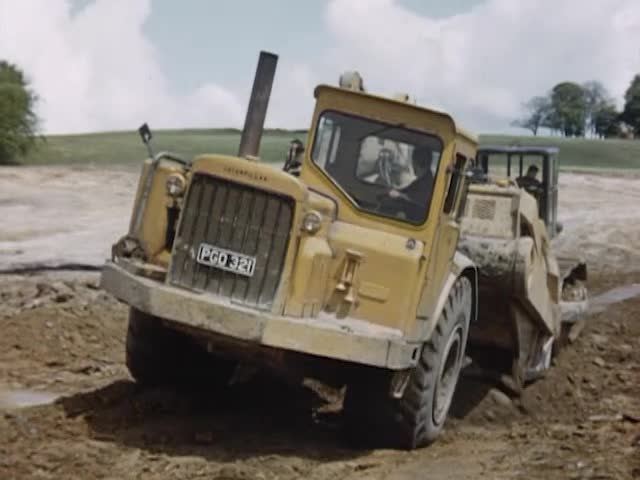 This video is not available to view remotely
Full length video - onsite only
Please read Understanding catalogue records for help interpreting this information and Using footage for more information about accessing this film.
Title: BATCHING PLANT CONVEYORS AND EARTH MOVING CONSTRUCTION EQUIPMENT FOR HYDRO ELECTRIC POWER STATION AT STRATH CONON, ORRIN
Reference number: 4644
Date: 1956*
Sound: silent
Original format: 16mm
Colour: col
Fiction: non-fiction
Running time: 27.53 mins
Description: Detailed footage of the construction processes involved in building a large hydro-electric power station in Strath Conon, at Orrin. Close-ups of all the heavy industrial machinery, transportation, cement mixing and digging equipment as the dam is constructed.
Shotlist: gvs 'Logan' earth moving machine, taking bucket loads of earth and transferring onto conveyor belt on construction site (2.17) c/u earth passing along conveyor belt (2.48) gvs earth processing, including shots of stones being pulverised (3.32) shot of huge magnetic over conveyor, picking up metal objects as earcth and rocks pass on conveyor underneath (3.48) rocks pass over 'seive' (4.12) rocks are washed and carried off on truck (includes elevated views) (5.54) truck is filled with rocks (6.25) medium l/s construction site (7.22) repeated pans over concrete walss of hydroelectric dam, and gvs construction work (8.25) gvs rocks moving along conveyor belts (10.07) c/u control box for machinery [becoming slightly oof] (10.18) medium c/u cement mixer in acti0n (11.34) men open and unload packs of 'Blue Circle' cement which are brought on forklift truck into container (12.05) various shots of cement mix passing along conveyor belts and being poured into huge containers (13.44) aerial shots same (14.04) men spread out concrete using spades (14.54) gvs huge containers of liquid concrete being manouevred (16.01) gvs construction of dam using concrete (20.30) gvs earth moving machinery, including diggers at work ; shots of vehicle driving repeatedly along newly constructed road (smoothing it?) (26.52) shot of vehicle refuelling beside an 'Esso' truck (27.22) brief shot truck driving along (27.53)