FREEDOM OF THE CITY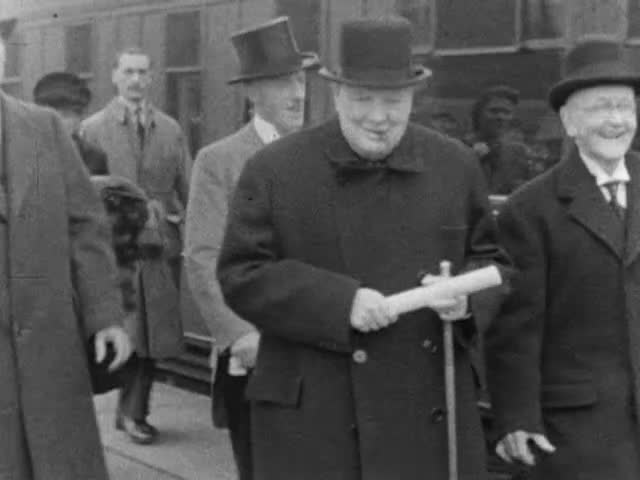 This video is not available to view remotely
Full length video - onsite only
Please read Understanding catalogue records for help interpreting this information and Using footage for more information about accessing this film.
Title: FREEDOM OF THE CITY
Reference number: 4563
Date: 1946
Production company: J E Henderson Ltd, 377 Union St, Aberdeen
Sound: silent
Original format: 16mm
Colour: bw
Fiction: non-fiction
Running time: 12.16 mins
Description: Winston Churchill receives the Freedom of the City and is capped LL.D. by Aberdeen University in 1946. Features street scenes and an official luncheon at the Town House, as well as recording the ceremonies themselves, and Churchill's send-off at Aberdeen Station.

See also refs 2797 and 4025.
Shotlist: title; The Rt. Hon. Winston S. Churchill visits Aberdeen to become a Freeman of the City and an LL.D. of its University 27th April, 1946 (0.30) accompanied by pipers, Winston Churchill walks away from his residence, smoking his trademark cigar (1.09) After breakfast with Sir Thomas and Lady Jaffrey, Mr. and Mrs. Churchill and Miss Mary Churchill plant a tree in the garden at Edgehill to commemorate their visit watched by waving crowds, the Churchills plant the tree (2.05) gvs crowded street scenes, as the people of Aberdeen await the arrival of Churchill (2.41) Mr. Churchill greets the cheering crowds on his arrival at the Music Hall for the Freedom Ceremony the Churchills arrive and wave to crowds from steps (3.28) ints Music Hall, academics in their gowns take their seats (3.43) After the ovation which greeted Mr. Churchill the Lord Provost Sir Thomas Mitchell presents his address gvs same (4.53) The assembly applauds with enthusiasm as Mr. Churchill in his address, pays tribute to the 51st Highland Division gvs same (4.54) Mr. J.C. Rennie, The Town Clerk Depute, completes the Ceremony, and with his 'Ticket' tied to his hat, Mr. Churchill becomes the 'Youngest Burgess' shot of same (5.27) a procession, with the Churchills at the head, leave the Music Hall (5.51) moving shot from behind a tram (6.01) ints grand dining where waiters and waitresses add the finishing touches (6.08) Amid cheering crowds Mr. Churchill drives to the Town House for the Luncheon shot taken from roof of Town House, of Churchill arriving in his open topped car, waving all the way (6.52) ints luncheon (7.13) Churchill exits Town House, as crowds are held back by police and soldiers (7.44) In the afternoon Mr. Churchill arrives at Marischal College, and is capped LL.D. by Principal Sir William Hamilton Fyfe procession of people, including Churchill, make their way to the College, people clamouring to get a look at Churchill (9.00) ints College, where Churchill receives his honour (9.40) the procession leaves the College (10.10) a man stands, imitating Churchill doing his 'V' sign for Victory (10.20) the Churchills leave by train, shot of train men by locomotive "No. 2004" (11.48) Aberdeen says 'good-bye', but its citizens will long remember the day on which they paid tribute to this great man - Winston Churchill; THE END (12.16)