SEAMLESS TUBE MAKING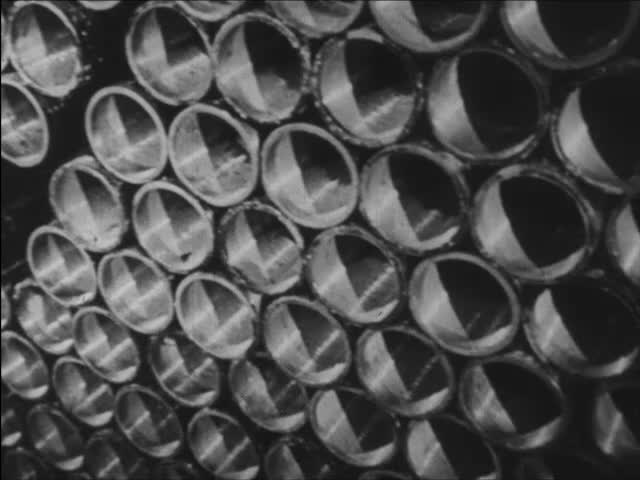 This video is not available to view remotely
Full length video - onsite only
Please read Understanding catalogue records for help interpreting this information and Using footage for more information about accessing this film.
Title: SEAMLESS TUBE MAKING
Reference number: 4507
Date: 1947*
Director: d. George H. Sewell
Sponsor: Babcock & Wilcox Ltd.
Production company: The Film Producers Guild
Sound: sound
Original format: 16mm
Colour: bw
Fiction: non-fiction
Running time: 16.24 mins
Description: Industrial film made by Babcock & Wilcox Ltd. on how to make seamless tubes. The whole process, complete with alternative methods are shown.

Glasgow University Business Archive hold many of the company records.
Credits: produced by Denis Ward
ph. David Holmes
ass. d. Peter Ward
ass. cameraman Brian A M Rhodes
comm. s. Alvar Lidell

Made at the Dumbarton Works of Babcock & Wilcox, Ltd. Technical And Scientific Films Ltd. (In Association with the Film Producers Guild) Western Electronic Recording.
Shotlist: title and opening credits (0.31) Gv's of different shapes and sizes of steel tubes. Workmen fitting the tubes on construction sites, tubes piled high in a factory yard. (1.50) Man setting a machine to drill a hole in the centre of a steel cylinder contained in a log (?). (2.03) Cylinders are carried by conveyor belt to an upper platform where they are rolled into a furnace. (2.20) White hot metal cylinder moving along the machinery. (2.39) A larger hole is made when the metal is hot. Workman replaces the drill head, and the machine is reset. (3.13) Man working two levers. (3.16) White hot metal rolls through the machinery. (3.22) Man operating two levers.(3.24) White hot metal is forced over the drill head which hollows out the cylinder and makes it longer. (3.46) White hot tube is passed through some more machinery, each part adding to its shape. (4.37) Hot metal held in a spinner. (4.41) Man operating levers. (4.46) Hot metal passing through the various machine parts, slowly cooling down. (5.56) The tubes are still hot. This is demonstrated by a man lighting his cigarette on a tube. (6.10) Cold tubes passing through the machinery. (6.35) Man feeding the tubes back into the machinery. (6.43) C/u of the tubes passing throught the various mechanisms. (6.55) Tubes are lined up for inspection and marked with white chalk. (7.07) Gv's of machinery that roll, pierce, and carry the white hot metal along. (8.41) Men operating machinery as the white hot metal tube passes through. (9.07) Shaping (?) metal machine. A construction of pipes and cylinders that are cooled by a flow of water. C/u of the shaping mechanism. (9.59) Animation of how the shaping process works. (11.04) C/u on the shaping of the tubes through the machinery. (11.42) Men working with the newly shaped tubes. (12.03) Second view of the shaping process. (12.26) Man operating a machine that trims the edges of the tubes. (12.44) Tubes moving throughthe machinery. (12.58) Man carrying a tube with one end white hot. He feeds the hot end into a machine which shapes it smaller than the rest of the tube. (13.22) Men reheating the tube and fixing the newly shaped small end into a vice. Once the tube is hot, it is passed through a series of smaller and smaller gaps until the whole tube is a smaller size. (14.15) Tube passing through another machine that can reduce the size of the diameter. (14.55) Tubes are left on a cooling rack. (15.08) C/u on the machinery that is cutting the tubes to the required length, and the men who operate them. (15.25) Tubes are tested by different water pressures, men operating the equipment. (15.35) The tubes are then inspected, the walls gauged, and interiors examined at both ends. (15.52) Code and gauge marks are painted on the outside of the tube. (15.57) Men in the store of tubes where they will be dispatched. (16.02) Lorry carrying a load of pipes driving away. (16.17) end credits (16.24)