10.15 FROM KIRKWALL TO LONDON, the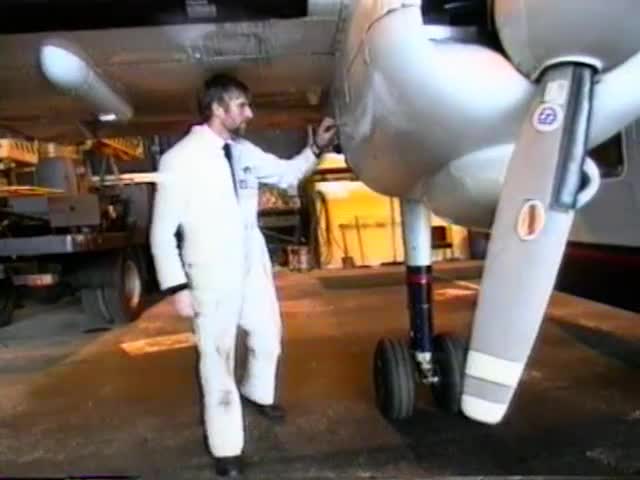 This video is not available to view remotely
Full length video - onsite only
Please read Understanding catalogue records for help interpreting this information and Using footage for more information about accessing this film.
Title: 10.15 FROM KIRKWALL TO LONDON, the
Reference number: 4438
Date: 1996
Director: d. Moya McKenzie McDonald
Sponsor: Scottish Film Council and Scottish Television Centenary Reels Scheme
Producer: Moya McKenzie McDonald
Production company: Mirage Television Productions
Sound: sound
Original format: Betacam SP
Colour: col
Fiction: non-fiction
Running time: 11.43 mins
Description: A fly on the wall record of the inter island Loganair service. The staff at Loganair and Kirkwall airport are followed from the opening of the airport in the morning, and the checking of the aircraft, to passengers arriving, and take off. The flight over the north isles to North Ronaldsay and Eday is shot from the air. The plane arrives at the Eday airstrip (named London).

The Scottish Film Council in association with Scottish Television ran the Centenary Reels scheme for first time film makers.

Director Moya McDonald: "First ever film for me, this was a solo production. Unlike other centenary reelers I had no contacts in the industry who helped me out. The editing house was the only professional support I got. Shot over two weeks in October. The theme of the Centenary Reels in 1996 was in celebration of a 100 years of cinema and my theme was a tribute to the cinema pioneers such as Lumiere who shot films of trains entering stations and people emerging onto platforms. Considered 'the everyday' but when seen on screen in 1896 was staggering. For islanders who use the inter island Loganair service the plane is to them what trains are to mainland folk. This is a fly on the wall look at their 'everyday'."
Credits: A film by Moya McKenzie McDonald
with grateful thanks to Bob Tullock and all the staff at Loganair
Tommy Tullock and all the staff at Kirkwall Airport
Janice Edwards ; John & Edith McDonald ; Pat & Bruce Sutherland ; Day, Martin & John Wishart ; Dan McRae
Shotlist: [shotlisted from timecode on Beta SP dub]

(00:00:00:00) shot of Kirkwall airfield and runway (00:00:10:00) exts airport terminal building, the radar tower (00:00:23:15) at night-time a car draws up and people start arriving and opening up the terminal the fire engine is set up (00:01:28:16) lady unlocks luggage door onto carousel (00:01:43:05) hangar doors are opened (00:01:49:13) c/u alarm clock and pilot in uniform boils kettle (00:01:54:13) testing of fire equipment and driving of engine out outside (00:02:10:19) pilot gets his coat and leaves for work (00:02:26:07) British Airways express aeroplane is checked over, includes ints cockpit (00:02:34:19) ints and exts air traffic control tower (00:02:43:07) hvs as pilot arrives for work, exts airport and ints check in desk (00:03:08:02) gvs aircraft and support behicles on runway, very brief exts Meteorological Office (00:03:20:05) exts Kirkwall Airport (00:03:31:23) ints baggage handling and further gvs passengers in foyer (00:03:51:22) ints Forecast Room where Senior Meteorological Officer A. M. Pottinger discusses weather with pilot (00:04:18:05) ints passenger lounge (00:04:25:02) exts of aeroplanes taking off (00:04:48:08) Wick Inter Island services sesk, passenger is weighed and checked in tickets (00:05:12:22) view of runway where plane is refuelled, intercut with pilot in office, gvscheck-in (00:06:17:11) ints waiting room where flight to North Ronaldsay and Eaday is called (00:06:34:17) ints plane passengers board, pilot boards and take off tracking as seen from plane (00:07:34:11) as seen from ground (00:07:46:10) ints cockpit and views aerials over landscape ints passengers and landing on grass at Eday, Plane no G - BLN - J (00:10:15:15) and take off (00:10:51:02) c/u sign Eday London Airport (00:10:55:05) aerials and ecs (00:11:43:00)