CRAIGPARK CABLEMAKING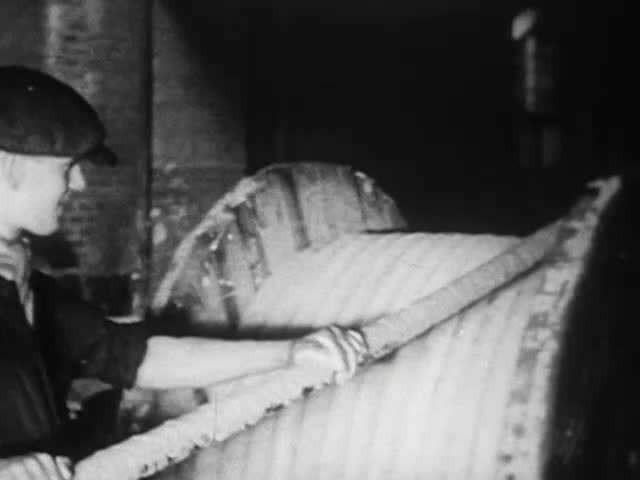 This video is not available to view remotely
Full length video - onsite only
Please read Understanding catalogue records for help interpreting this information and Using footage for more information about accessing this film.
Title: CRAIGPARK CABLEMAKING
Reference number: 4322
Date: 1932c
Sponsor: [ Craigpark Electric Cable Co., Springburn]
Sound: silent
Original format: 16mm
Colour: bw
Fiction: non-fiction
Running time: 49.08 mins
Description: Cablemaking at the Craigpark factory in Flemington Street, Springburn, Glasgow. A film made to advertise the company's activities and to promote better customer relations.

The Craigpark company was founded in 1897 and continued in business until 1956 when the business went into voluntary liquidation. The firm employed about 250 people and even during the years of depression in the 1930s, the company went on increasing its trade. The film was made using a Bell & Howell cine camera, three lens turret type, Model 70 D, with technical assistance given by the Kodak agent in Glasgow at that time. See donor's background notes.
Shotlist: [opening title missing from original film] Views of exterior of factory showing newly built office block in Flemington Street, shot of boiler chimney, side view of warehouse and brief shot of horse-drawn cart [scrap dealer] entering gate (0.53) shot of man working in chemist's laboratory, mixing experimental rubber batches (1.43) rubber testing procedures (5.03) unpacking, weighing and gauging raw material in store room including copper wire, jute and cotton (6.14) cleaning coils of wire in tinning shop (9.33) taking off wire and making into coils, winding onto bobbins (13.23) rubber being weighed out together with vulcanising agents (14.47) compounding ingredients ready for mixing and being mixed and rubber rolled into sheets, shots of women feeding the rubber into rollers (19.09) insulation being put onto conductors and entering cooling tank, packing into chalk for vulcanising and cutting the rubber, separating rolls of strip rubber ready for machines, applying pure and compound rubbers to 12 separate conductors (23.12) taping the conductors on high-speed taper, pulling out the cylinder after vulcanisation of the cores, cores going into vulcanising chamber, testing in the test tank shop (35.15) lead covering, armouring, steel taping, tarring, jute serving, whitewashing. Spooling cotton to supply braiding machines, bunching machines, cotton covering the flexible conductor, high speed twinning machine (45.19) running finished cable onto reels ready for export (46.25) packing dept. with shots of finished drums of cable ready for shipment and shots of different types of cable manufactured at factory (48.54) The Craigpark Cable Co. of Glasgow, export to all parts of the World and Specialize in the Manufacture and Export of All Kinds of Cables whether for Power-Lighting-Telegraph or Telephone (49.08)