SOCIAL PROBLEMS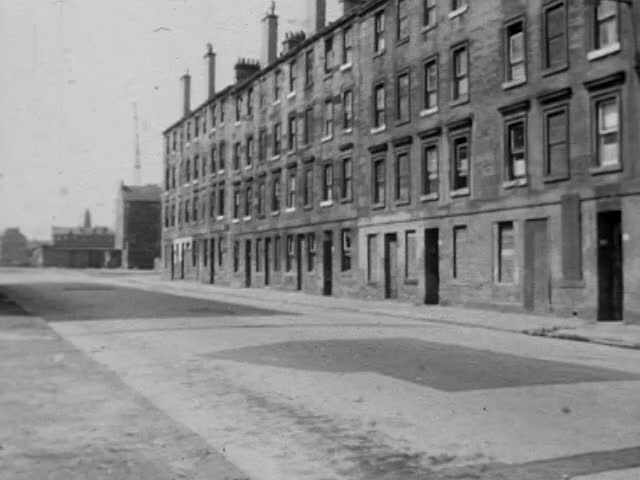 This video is not available to view remotely
Full length video - onsite only
Please read Understanding catalogue records for help interpreting this information and Using footage for more information about accessing this film.
Title: SOCIAL PROBLEMS
Reference number: 4203
Date: 1965c
Sound: sound
Original format: 16mm
Colour: bw
Fiction: non-fiction
Running time: 12.50 mins
Description: A film highlighting the 'Social Problems' that were created when the slum clearance in the Gorbals began. There are shots of the Gorbals before demolition and then footage of the vast housing estates which the people of the Gorbals were sent to. There are interviews from former residents talking about the loss of community spirit as neighbours, friends and family were sent to different areas. The interviewees also complained about the lack of amenities that were available in their estates.
Shotlist: [no credits] gvs empty tenements in the Gorbals [Florence Street], awaiting demolition. gvs derelict shop fronts, including Fruiterer, Dressmaker, 'Sammy Wilson's Betting Shop' and Elliots' Dairy (0.46) Mrs Elliot, is interviewed outside the former shop, about how the area used to be (1.18) ints tenement close and room, now empty (1.33) i/v continues, concerning the community spirit and the people who lived in the area, the placing of elderly people in new housing (2.30) gvs derelict housing, broken windows (2.59) gvs Castlemilk housing estate (3.37) i/v Jim Tarbert, a resident of Castlemilk and Jordanhill student, who moved from the Gorbals in the late 1950s. Concerning the tight knit community there was in the Gorbals, how his extended family were split up when moved to Castlemilk (4.44) exts streets and housing in Castlemilk, v/o talks about the sheer size of Castlemilk and the lack of things to do (5.25) ints swimming pool (5.32) exts Community Centre (5.42) i/v continues, lack of pubs, dance halls, cinemas and entertainment generally (6.02) i/v continues, regarding the telephone box and how it does not work, Castlemilk's reputation for violence, how kids do things out of boredom (6.51) long queue for bus to St. Enoch Square - as people 'escape' to the City Centre (7.37) exts Red Road high rise flats (7.54) ints playgroup at Red Road, organised privately by group of young mothers (8.44) i/v Mrs Whitelaw, one of the mothers on why the playgroup is needed. Discussion of the lack of community and somewhere to meet, elderly people and how they are lonely. Lack of facilities such as doctor, library, pub etc. and how a bus to Springburn has to be caught in all weathers. gvs children playing around Red Road flats, on roundabout and cycles etc. (12.50)