PHYSICAL PROBLEMS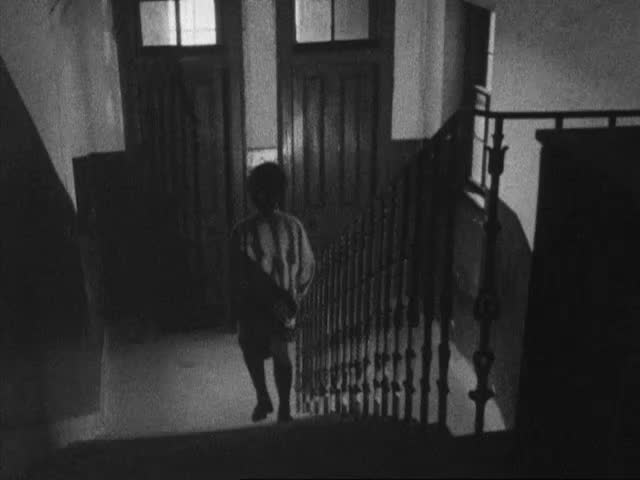 This video is not available to view remotely
Full length video - onsite only
Please read Understanding catalogue records for help interpreting this information and Using footage for more information about accessing this film.
Title: PHYSICAL PROBLEMS
Reference number: 4201
Date: 1970*
Sound: sound
Original format: 16mm
Colour: bw
Fiction: non-fiction
Running time: 10.59 mins
Description: This documentary film records the morning routine of a family living in a two room tenement flat, as they wash and eat breakfast in their kitchen. Most shots observe unsafe housing and the dereliction of shipyards in Govan.
Shotlist: No credits. Exts. tenement building, wall braced with timber frame (0.06) ls reporter and Mrs Reid standing on demolition site; i/v Mrs Reid talks about her family being trapped when her building collapsed (1.50) gvs derelict, damaged tenement buildings (2.07) c/u caged bird in window, pan down to filthy back court; brief shot children playing there (2.35) tracking shot walking up stairs from court to door (3.38) ints rooms in flat; young man and girls wash at sink as mother sets table for breakfast, brief shots of dog and cat (6.01) ints. mother washing breakfast dishes; mother gives money to children from her purse (7.05) exts. mother emptying pail into dustbin (7.23) exts. children playing on abandoned furniture (7.43) pan over caravan site, behind tenements, new school in b/ground (8.04) street scene, workers leaving Upper Clyde Shipbuilders gates (8.27) derelict exterior of Barclay Curle yard, shots of abandoned engines and welder's masks (7.53) gvs demolition of work shop, glass ceiling collapses; ints another derelict workshop (9.55) elevated shot crossroads; mother crosses road with boy and pram, hurrying him with a flick of her foot; low angle shots traffic wheels, pedestrian and horse's legs (10.30) tracking shot from car (10.59)