PLANNER'S APPROACH, the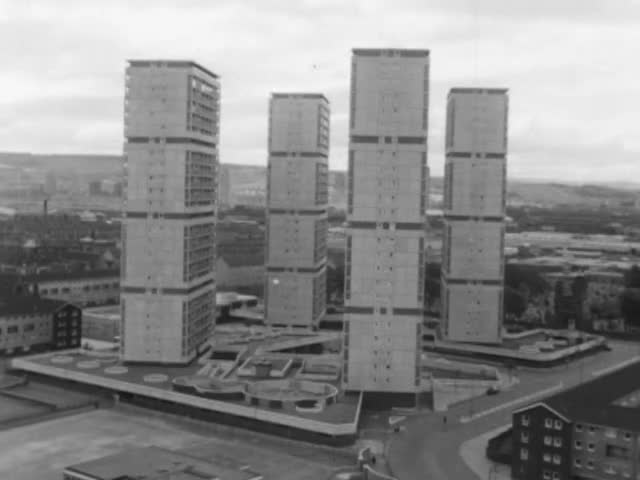 This video is not available to view remotely
Full length video - onsite only
Please read Understanding catalogue records for help interpreting this information and Using footage for more information about accessing this film.
Title: PLANNER'S APPROACH, the
Reference number: 4196
Date: 1968*
Production company: [ Audio-Visual Dept, Jordanhill College of Education (?)]
Sound: sound
Original format: 16mm
Colour: bw
Fiction: non-fiction
Running time: 18.04 mins
Description: Documentary on city planning and the development areas in Glasgow around 1970. Includes demolition of Charing Cross as new ring road is built.

Production material for programmes produced on film by Jordanhill College.
Shotlist: Bulldozer clearing demolition site of old tenements in the townhead are of Glasgow. Gvs foundations being prepared for new housing in the Gorbals Portugal Street area. Gvs new housing schemes at Hutchesontown, Gorbals, children in scheme play area, brief shot shopping centre. Shot of people (in dress very redolent of the period!) crossing the Clyde suspension footbridge connecting Clyde Street and Carlton Place. Interview (on the bank of the Clyde at Carlton Place) with Mr Jarvis, a Glasgow architect, concerning the renovated Carlton Place tenement building and plans for redevelopment of the Clyde riverside area. We are shown his proposed plans for the disused area of St. Enoch Station and Hotel (10.59) -blank- (11.15) int. and ext. Queen Street station, shot of traffic, shop fronts and pedestrians on Buchanan Street (12.09) several shots of the gigantic demolition area at Charing Cross, as the new ring road is being built. Shot of the new roads heading down to the Kingston bridge (13.42) construction of new factory on old railway land at Springburn (14.44) shots of industrial estate at Dixon's Blazes, forklift truck moves palettes from lorry. Shots at a container terminal, large containers are lifted from lorry onto train by crane (17.07) gvs Glasgow Green (18.04)