GLASGOW AND ITS NEIGHBOURING ATTRACTIONS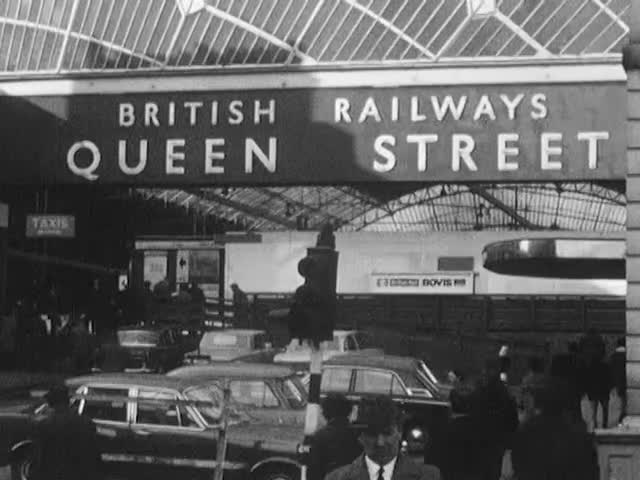 This video is not available to view remotely
Full length video - onsite only
Please read Understanding catalogue records for help interpreting this information and Using footage for more information about accessing this film.
Title: GLASGOW AND ITS NEIGHBOURING ATTRACTIONS
Reference number: 4110
Date: 1967*
Sound: silent
Original format: 16mm
Colour: bw
Fiction: non-fiction
Running time: 22.51 mins
Description: A documentary style film exploring the city of Glasgow. There are shots from the city centre to the West End with panoramic views over the entire skyline. There are also scenes from the Edinburgh Tattoo and coastal towns.

Shotlist: No credits. l/s of cars driving along the motorway (0.13); Glasgow skyline, focusing on area of redevelopment (0.38); pan of Glasgow skyline (0.56); c/u of building (1.01); shot of Glasgow Cathedral (1.08); street scene (1.12); ints. of City Chambers? (2.14); men and woman sitting around a table having a discussion (2.19); gvs of Glasgow skyline (2.38); shot of people walking past a shop as viewed through the shop window (2.47); shot of car driving along the motorway (3.03); [over exposed] shot of trucks driving on the motorway (3.03); motorway (3.04); Blank (3.07); Royal Bank of Scotland building (3.41); St. Vincent Street, gvs of other financial institutions (3.51); Hope Street, pan of Central Station (3.57); Royal Stuart Hotel, [flashes of frames] (4.03); skyline shot (4.08); St. Enoch Station Hotel (4.19); tracking shot into the station (4.36); Jamaica Street with traffic travelling over Jamaica Bridge (4.37); unidentified car park? (4.41); Queen Street Station, people entering the station (4.47); gvs inside the station (4.54); buses leaving the terminal (5.01); [flashes through a few frames with unidentified buildings] (5.03); gvs of city centre streets (5.06); Royal Exchange Square (5.24); Glasgow Cathedral (5.24); shot of clock tower at the Trongate? (5.36); Lewis's Shop, Argyll Street (5.37); Marks & Spencer's, Woolworth's, Pettigrews Shops on Sauchiehall Street, Tramp sitting on the street, people waiting for buses, (6.48); Blank (7.03); Argyll Street, c/u of car door handle (7.06); gvs of Argyll Street, Lewis's, Dolcis Shoe shop, buses etc. (7.24); Blank (7.38); plane coming in to land, plane on run way (7.48); man performing a speech, pan of audience (8.23); Blank (8.27); exts. of City Chambers (8.47); people walking inside Lewis's entrance (8.57); people exiting Central Station (9.13); Royal Exchange Assurance Group of Companies, exts building (9.28); brief shot of Glasgow School of Art (9.28); renovation on St. Andrew's Cathedral? (9.44); gvs street scene (9.50); shot of a coffee house (10.00); Wylie & Lochhead, (10.09); McDonald's Furriers (10.21); Wylie & Lochead again (10.40); gvs of buildings surrounding Blythswood Square (11.01); Glasgow skyline, shot of cranes (11.15); c/u of tenements around Blythswood Square (11.42); men and woman sitting around a table having a discussion (12.02); exts. of City Chambers (12.03); Park Circus? (12.11); Building works along the Clydeside, building bridge for motorway (12.28); cranes by the Clydeside (12.51); shots of a train (13.09); Street scene, shoppers, buses, cars etc. (13.42); Brief shot of Park Circus (13.43); pan over Glasgow Skyline, Glasgow University buildings - Reading Room, Adam Smith Building, Main Building (13.55); Train Station (14.26); Train travelling over the Forth Rail Bridge (15.18); people in the park (15.37); Kelvingrove Park , l/s Glasgow University, gvs of park (16.59); people rowing, Glasgow Green (17.18); gvs skyline, people looking over Glasgow, (18.10); people in a park looking at monuments (18.22); Edinburgh Tattoo, soldiers of different regiments and nationalities performing a display to the crowds seated outside Edinburgh Castle (19.47); Blank (19.49); Tattoo displays in the evening (19.50); people on rowing boats at a small pier, dog boards a rowing boat (21.19); the 'Ward Lass' barge coming through a lock on a canal (21.49); Unidentified canal town ? with view of sea and small island with a large House on it, view of Sailing boats, LH-32 number on it (22.47); reflection of fishing boat in the water (22.51).