TROLLEYBUS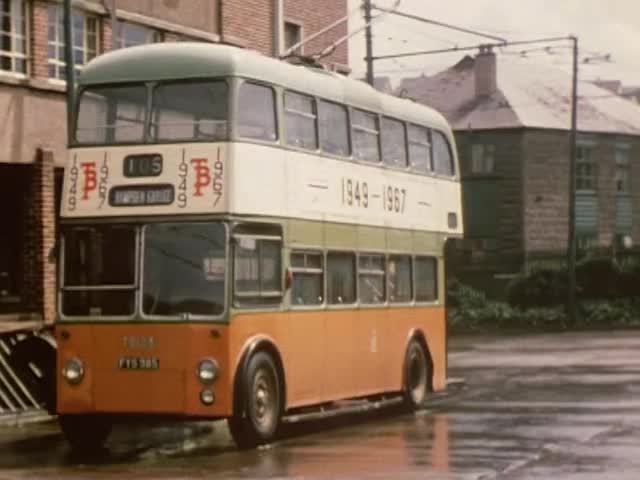 This video is not available to view remotely
Full length video - onsite only
Please read Understanding catalogue records for help interpreting this information and Using footage for more information about accessing this film.
Title: TROLLEYBUS
Reference number: 4005
Date: 1967*
Sound: silent
Original format: 16mm
Colour: col
Fiction: non-fiction
Running time: 4.18 mins @ 24fps
Description: The last trolley bus week in Glasgow, 1967. Brief footage of trolley buses as they move around streets from the centre to the south-side of Glasgow (bound for Clarkston, Queen's Cross and Mount Florida).
Shotlist: REEL I
gvs trolleybus driving around depot, unoccupied. 'Last Trolleybus Week 1949-1967' written on sides of orange and green corporation buses, bound for Hampden Garage (0.43) m/s trolleybuses standing in depot and in garage (1.04) ints inside trolleybus, driving booth, seating, staircase etc (1.23) more gvs trolleybuses stationary in depot (1.46) shots of bus (destination board reads 'Queen's Cross') making its way to George Square, passing the Palace Theatre, Gorbals, passengers (including bus conductors in uniform) boarding bus for their last ride (2.52) 103ft

REEL II
trolley bus bound for 'Clarkston' leaves George Square (passing down West Nile Street?); m/s of people disembarking and getting on bus at stop; shot of trolley bus driving over bridge, view of trolley bus 105 bound for 'Queen's Cross' travelling in opposite direction (1.08) shot of trolley bus 105 bound for 'Mount Florida' as it moves ? at the Victoria Infirmary (1.20) shot of trolley bus travelling down a rather empty street (sign on building reads 'McFarlane') (1.26) 39ft