STEAM TRAIN 60836 AT WAVERLEY STATION, EDINBURGH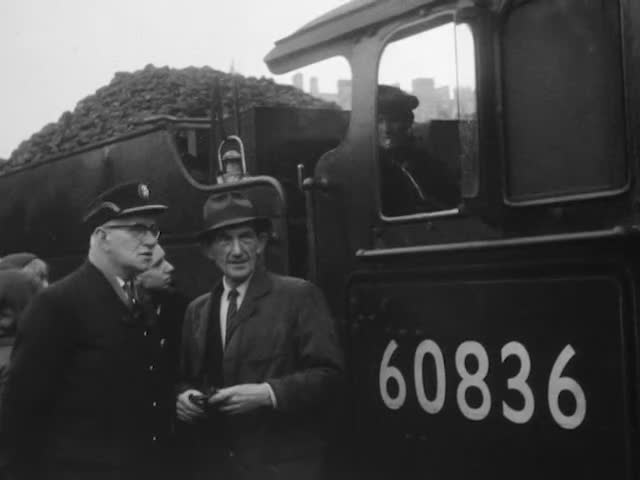 This video is not available to view remotely
Full length video - onsite only
Please read Understanding catalogue records for help interpreting this information and Using footage for more information about accessing this film.
Title: STEAM TRAIN 60836 AT WAVERLEY STATION, EDINBURGH
Reference number: 4002
Date: 1964*
Sound: silent
Original format: 16mm
Colour: bw
Fiction: non-fiction
Running time: 2.41 mins
Description: Records a (brand new?) steam train in Edinburgh Waverley train station, a group of men and boys photographing the event.

Shotlist: shots inside Edinburgh Waverley train station as men and boys wait on platform (0.04) shot of people walking up platform to camera (0.09) man (probably a schoolteacher or club-leader?) and boys standing on platform, preparing photographic equipment and awaiting arrival of train (0.22) steam train no. 60836 pulls out of Edinburgh Waverley station, c/u of driver leaning out of window and wheels in motion (0.49) side of head shot of man concentrating on the train (0.52) gvs train driving in to station (1.08) c/u driver stoking the furnace to power engine (1.12) m/s group of men and boys taking photographs of train, shot of them on platform with National Gallery in background (1.27) shot of driver (or railway official?) standing on platform, train laden with coal in background (1.35) c/u of British Railway crest painted on train (1.39) shot of boys with cameras taking photographs (1.41) driver sitting smoking and talking (1.45) man digging load of coal with ? (1.50) sign reading 'Edinburgh Waverley' (1.55) gvs steam locomotive 60386 pulling out of station, c/u of wheel in action and spectators on platform (2.41)