SNOWY OWLS OF SHETLAND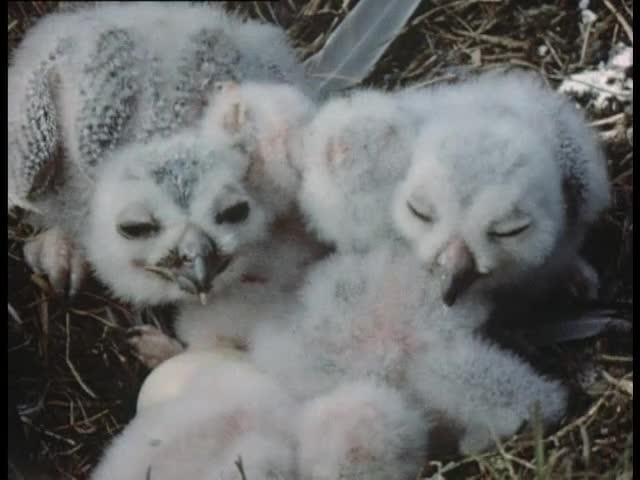 This video is not available to view remotely
The RSPB mount a 24-hour watch as the first snowy owl eggs hatch on the island of Fetlar in Shetland in 1967. (clip - onsite only)
Please read Understanding catalogue records for help interpreting this information and Using footage for more information about accessing this film.
Title: SNOWY OWLS OF SHETLAND
Reference number: 3929
Date: 1969
Sponsor: [ Royal Society for the Protection of Birds (?)]
Sound: sound
Original format: 16mm
Colour: col
Fiction: non-fiction
Running time: 9.09 mins
Description: In June 1967 the first breeding record of snowy owls was recorded in Fetlar, Shetland. The R.S.P.B. with the experience of the Scottish ospreys behind it, decided to mount a 24-hour guard over the birds. The film is a record of this highly successful operation.
Credits: nar. George Waterston
m. Gateway Films Ltd.

[A Film distributed by the Scottish Central Film Library]
Shotlist: Gvs Fetlar - landscape, crofters working in field, Shetland ponies (0.42) tracking shot taken from Bobby Tulloch's boat of pilot whales, black guillimots, fulmars, eider ducks (1.41) shots of snowy owls over the Fetlar landscape, shots R.S.P.B. officer at work, shots snowy owl nest and chicks, shots of bird-watchers in hide (7.34) shot of Scotsman newspaper front-page, shot of Shetland gift shop window, followed by more shots of snowy owls in flight, feeding, and at nest (8.59) ecs (9.09)