Holiday in Austria and Germany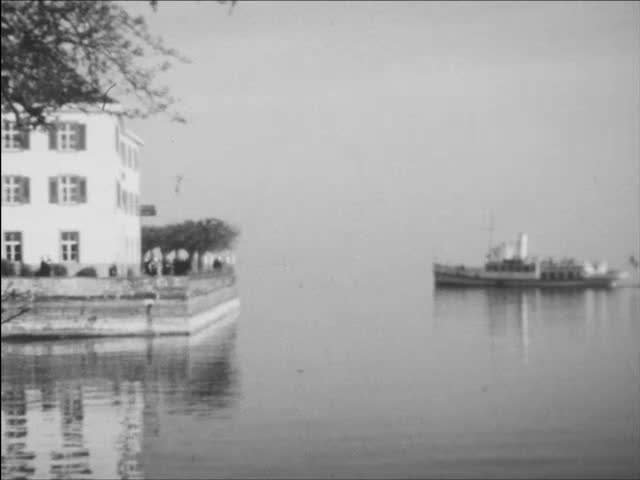 This video is not available to view remotely
Full length video - onsite only
Please read Understanding catalogue records for help interpreting this information and Using footage for more information about accessing this film.
Title: Holiday in Austria and Germany
Reference number: 3662
Date: 1935*
Director: filmed by Mr Martin Snr
Sound: silent
Original format: 16mm
Colour: bwcol
Fiction: non-fiction
Running time: 15.01 mins
Description: Family holiday in Austria and Germany. It mostly depicts aspects of alpine life such as the snow covered villages high up the mountains, to the farmers lower down the valley, and then to the lake villages. However the film also shows the Hitler Youth parading through one town, and swastikas covering the streets.
Shotlist: shots of leaving a pier taken by from the boat - gvs of quay side buildings and horse and cart (.20) gvs of mountainside (.48) men on a balcony - view of the Alps in the background (.56) Gvs snow covered mountains and village(1.54) Shot of woman being dwarfed by the wall of snow built up at the side of the road (2.03) musicians playing in an alpine cafe (2.12) man on a hillside, pan up to mountains (2.25) Shots of local farmers working with a horse and cart - image blank due to fog (2.52) part of a small lake - image blank due to fog (3.10) vehicles driving along the narrow mountain roads (3.35) Two people setting off on a walk (3.59) image partially gone due to fog - woman setting a table outside, and men shovelling snow (4.30) family skiing (5.27) gvs of mountainside(5.47) [COL. Magenta]. shot of a woman on a balcony (6.32) procession of the Hitler Youth (7.20) streets draped with swastikas (7.48) people in cafe (8.06)[b/w ] lake boat (8.23) people in cafe (one lakeside the other in a town ) and shots of a brass band playing in the street (9.30) gvs streets (9.56)s gvs leaving a village taken from a lake boat (10.12) shots taken from a lake boat of gvs of scenery and buildings (13.14) cargo boat - image blank due to fog (13.41) pan up a cathedral (14.33) women in a back garden (15.01)