SHOOTING IN SCOTLAND, SCENES ABROAD AND A WARSHIP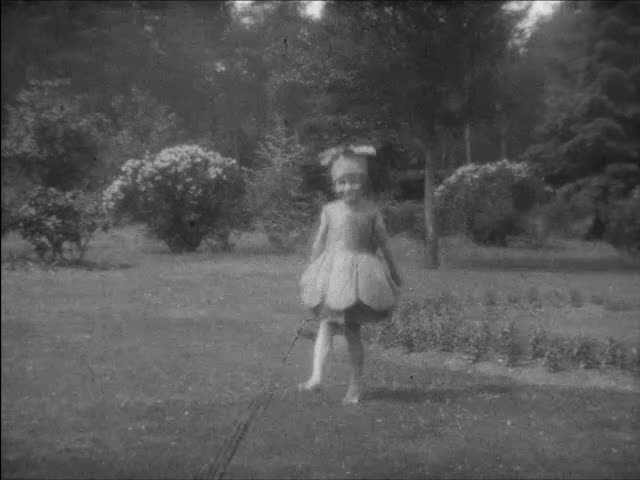 This video is not available to view remotely
Full length video - onsite only
Please read Understanding catalogue records for help interpreting this information and Using footage for more information about accessing this film.
Title: SHOOTING IN SCOTLAND, SCENES ABROAD AND A WARSHIP
Reference number: 3657
Date: 1928*
Sound: silent
Original format: 16mm
Colour: bw
Fiction: non-fiction
Running time: 11.52 mins
Description: The beginning and the end of this film concerns shooting stags, and game birds. The middle concerns rthe family at home and abroad, possibly North Africa (?) Asia(?). An unidentified warship, and the children playing.
Shotlist: Five men standing or crouching by a stone wall, then walking along a hill path with a horse pulling a wooden pallet. Some of the men are wearing kilts. (.8) Three men striding across the hill. (.11) Three men manoeuvring a dead stag on to a horse's back. The men and horse walking along the hill. (.56) Four men walking a horse along a hillside, no stag. (1.08) Horse pulling a wooden pallet loaded with a dead stag along by an out building. (1.22) C/u on a collie dog. (1.27) [ The following scenes are filmed abroad] Man standing by a gate looking out over the hills. (1.33) Two dogs playing on a lawn. (2.20) Man and a woman standing on a hill top viewing point. (2.23) Man herding some goats down a cobbled street. Goats standing by a building, people walking by. (2.29) Unidentified warship. (3.03) Elderly lady, with nurses (?) sitting on a balcony (?). (3.09) Town square / market place. (3.15). Ladies riding side saddle on donkeys. They are being escorted by men on foot. (3.19)Street scenes. Market place. The poor. (3.33) Two girls playing with dogs on a lawn. (4.01) Two girls playing on swings attached to trees. (4.13) Children playing cricket and dancing about the lawn. (4.37) A girl standing on a stone pillar, dressed in a large shiny hat and netting. She is waving her arms. Possibly dressed as a fairy. (?) (4.42). Air show. As the camera follows the aircraft up, the cars and crowd are briefly caught in shot. (5.22) Little girl dancing in the garden, dressed as possibly a buttercup or a daffodil. (?). (5.32) Lady sitting in the back of an open top car, man standing at the side. (5.37). Men playing with children in a private outdoor swimming pool. (6.09) Family standing outside the house. (6.14) Three men sitting outside a stone building on a hillside with dogs looking through either binoculars or telescopes. (6.35) Three girls in a garden. They are together sitting on a bench. Individually playing with dogs. Playing to the camera. Girl lying on the grass with her dog.(7.32) C/u of a baby. (7.43) C/u of a woman (talking head), men lying out in the sun in the background. (7.50) Two girls and a boy playing in a river. (8.04) Family picnic on the river bank. Elderly lady in wheelchair. (8.13) Men outside a small white building in a village, loading a large basket on to a horse. Men are walking in and out of the building. One man is wearing a kilt. (8.44) Men on the hillside with the horse. The men have guns, and one man is taking more ammunition out of the horse basket. (8.51) Men walking in a line across the hill top with their guns and their dogs. (8.59) Men outide a small building talking. C/u of a dog. (9.16) Men outside another building walking to the side of the camera. (9.28) Four men crouching, looking through binoculars and telescopes. (9.40) Men crawling on their stomachs through the heather. (9.49) Stags on the hillside. (?). (9.59) A woman and a boy have joined the men on the hill, they are at first seen by the horse, then walking by a dry stone dyke. (10.23) Gv of the landscape. (10.26) Four men sitting or standing on or by a dry stone dyke. (10.34). C/u on the boy smiling at the camera. (10.42) Men and the boy walking to a building, then laying out the catch. (11.16) Dogs, one with a bird in its mouth. (11.28) Man chasing after the boy and carrying him back. (11.38) C/u of a dog. (11.52)