WHEELHOUSE AT A'CHEARDACH BHEAG DRIMORE, S. UIST, a / DUN MOR VAUL TIREE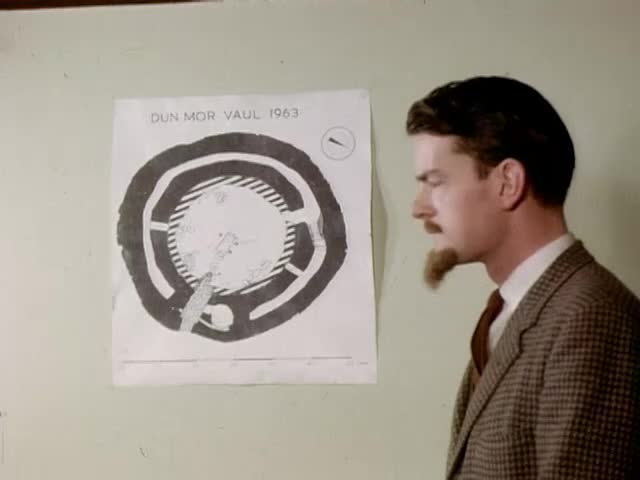 This video is not available to view remotely
Full length video - onsite only
Please read Understanding catalogue records for help interpreting this information and Using footage for more information about accessing this film.
Title: WHEELHOUSE AT A'CHEARDACH BHEAG DRIMORE, S. UIST, a / DUN MOR VAUL TIREE
Reference number: 3624
Date: 1963
Director: [filmed by Prof. Anne S Robertson]
Sponsor: Hunterian Museum
Sound: silent
Original format: 16mm
Colour: col
Fiction: non-fiction
Running time: 16.07 mins
Description: Two films reeled up together. The first "A Wheelhouse at A'Cheardach Bheag Drimore, S.Uist" is a short film showing the the artifacts taken from that site being arranged and finally displayed. This film does not show the actual excavation on South Uist. The second longer film "Dun Mor Vaul Tiree" shows the excavation of a broch? on the island.

The cataloguing of this collection was assisted by referring to the handbook "Scotland's Roman Remains" written by Dr. Lawrence Keppie.
Shotlist: Opening credit(0.11) c/u of a model of the wheelhouse in a glass cabinet(0.21) shots of two men studying in a research room with one man pointing at a pamphlet "Discovery and Excavation - Scotland 1956" they go onto study photographs and ground plans of the site(2.20) the two men hold up the model of the wheelhouse to the camera as well as an aerial photograph? of the site to compare it(2.52) the men lay out some fragments of pottery on the desk and display them to the camera, a third man joins them and proceeds to wash a piece with a toothbrush in water(4.09) the three men study some bone objects(4.31) the model is brought out again with photographs laid out around it(4.52) the men arrange the pottery and bones on a display board and paint the letters ending with shots of the finished displays in their glass cabinets(6.19) end credit(6.36) spacer(6.48) Opening credit(6.58) ground plan of Dun Mor Vaul 1963 pinned to a black board with a man standing beside it(7.05) shot of "1963"superimposed over the ground plan of the site(7.13) general shots of the site with a c/u of a sign warning people that a archaeological dig is in progress by the Hunterian Museum(8.02) general shots of the site with people digging, surveying(9.52) shot of the ground plan with an arrow pointing at a red dot representing a dug ditch?(9.57) c/u's of the same(10.20) shot of the ground plan with an arrow pointing at a red dot representing a dug ditch? on the opposite side of the site(10.27) shot of a woman walking up the stone steps(10.37) shot of the ground plan with an arrow pointing at the top part of the site(10.41) c/u shot of an artifact being discovered(11.08) panning shots of the excavated walls(11.45) shot of the ground plan with an arrow pointing at a red dot representing the entrance to the site(11.49) shots of the same(12.29) shot of the ground plan with an arrow pointing at an ante room beside the entrance?(12.35) shots of the interior and exterior of this part of the site(12.54) shot of the ground plan pinned to a wall with warrior figure painted in red in the middle of the plan(12.59) panning shot of the interior of the site(14.09) general shots of the site with a shot of the excavation team having their lunch(14.40) shots of a man in the research room holding up to the camera a sample of the artifacts discovered at the site whilst also holding up these examples beside the ground plan pinned up on the black board(15.46) single shot of the whole site(16.00) end credit(16.07)