MRS KENNEDY FRASER SONG COLLECTING IN THE OUTER HEBRIDES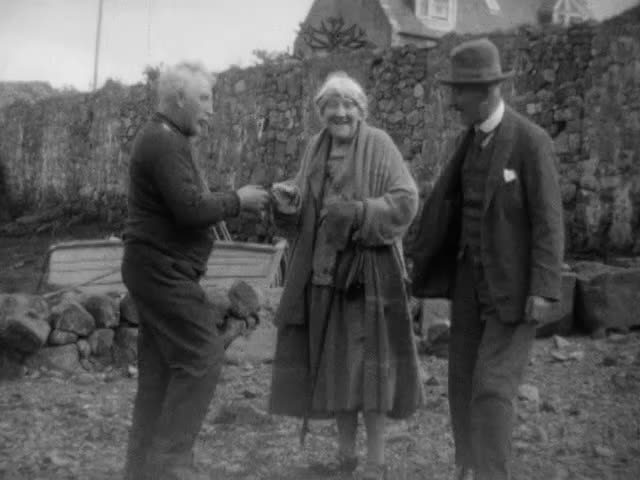 This video is not available to view remotely
Full length video - onsite only
Please read Understanding catalogue records for help interpreting this information and Using footage for more information about accessing this film.
Title: MRS KENNEDY FRASER SONG COLLECTING IN THE OUTER HEBRIDES
Reference number: 3612
Date: 1927*
Director: filmed by Marjory Kennedy Fraser
Sound: silent
Original format: 16mm
Colour: bw
Fiction: non-fiction
Running time: 14.36 mins
Description: Amateur footage capturing the essence of the island of Barra, and the life/work of its inhabitants, c.1920s. Features shot of early folk song recording and shots of Marjory Kennedy Fraser herself.

Marjory Kennedy Fraser (1857-1930) was a singer and folk-song collector, born in Perth. One of a large musical family, she trained in Paris as a concert singer. In 1882 she started studying Gaelic music, took lessons in Gaelic, and started to collect Hebridean folk-songs, for which she composed modern harmonic settings. In 1909 she published "Songs of the Hebrides". She also wrote the libretto of Granville Bantock's opera "The Seal Woman".
Shotlist: Title (0.05) various shots of persons [possibly townsfolk / crofters / Marjory Kennedy Fraser and friends or family] parading in front of camera to a backdrop of thatched croft houses, peat block stacks, crofting equipment, highland cattle and landscapes of Barra (2.05) shots of persons [possibly Marjory Kennedy Fraser and entourage] boarding rowing boat, travelling to the other side of water, and hopping off onto land (3.32) m/s of horse and cart (3.43) shot of folk song being recorded by a singer and a technician/recorder, showing equipment used (3.54) shots of persons [including Marjory Kennedy Fraser] to a backdrop of thatched crofters houses, peat block stacks, men carrying barrels, castle bay at Barra and Kisimul Castle (5.00) shots of crofter feeding chickens with Barra landscape and crofters' house in background (5.19) shots of a woman working at a spinning wheel outside in open air (6.06) very brief l/s of man scything a field followed by shot of young cow in front of croft house (6.20) shots of seagulls at pier feeding from fish filled barrels along pier's edge (7.12) various shots of a woman working outdoors at a spinning wheel and subsequently with the yarn (8.48) c/u of a highland cow walking along road followed by shots of a different woman working outside a croft house at a spinning wheel/carding (9.45) brief c/u int. of crofter's house [underexposed] featuring a woman working at spinning wheel (9.56) various shots of crofter family parading in front of their house to pose for camera (10.56) shots of a different woman still, working at a spinning wheel/working the yarn outside house (11.40) further shots of adults and children posing for camera in front of house [possibly school?] (11.59) panning gvs of Barra landscape showing croft houses and road (12.47) panning gvs of the beach and sea followed by further gvs of landscape houses and road (13.32) panning gvs of castle bay, featuring m/s of Kisimul Castle and boats (14.36)