SCOTLAND FOR SPORT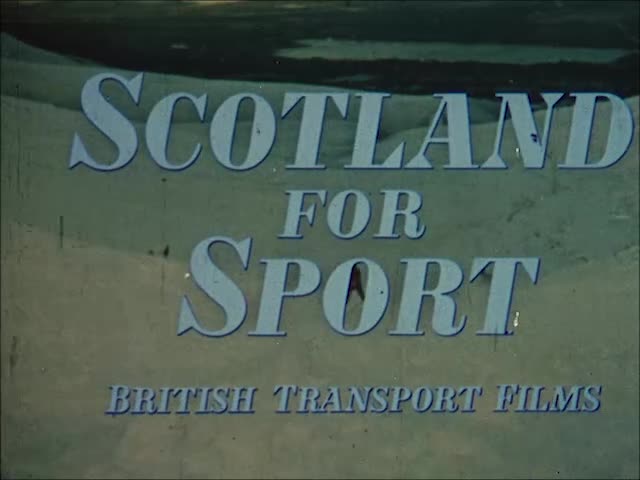 This video is not available to view remotely
Full length video - onsite only
Please read Understanding catalogue records for help interpreting this information and Using footage for more information about accessing this film.
Title: SCOTLAND FOR SPORT
Reference number: 3610
Date: 1958
Director: d. Kenneth Fairbairn
Production company: British Transport Films
Sound: sound
Original format: 35mm
Colour: col
Fiction: non-fiction
Running time: 22.37 mins
Description: A film depicting the various outdoor summer sports the Scottish countryside offers.

The British Transport Film Collection is preserved by the British Film Institute.
Credits: p. Ian Ferguson
ph. David Watkin
ed. John Legard
production assistants Jack West and John Plain
nar. Alastair Borthwick
m. Edwin Astley
sd. rec. Anvil Films Ltd.
exec. p. Edgar Anstey
Shotlist: shots of children and adults fishing in Scotland's rivers and lochs (2.53) shots of canoeing on the river Tay (4.43) shots of yachting on the Firth of Clyde (7.59) shots of rock climbing on Skye with brief l/s of the Cuillin Hills (12.33) very brief shot of Gleneagles Rail Station followed by brief ext. of Gleneagles Hotel followed by various shots of golfing on the Gleneagles courses [including a championship] (15.48) jump cut to a different piece of film [?] with different narrator - shots of a Glasgow schoolgirls' outing to the Cairngorms, featuring hill walking on Ben More (17.05) jump cut back to original film - shots of pony trekking classes in the upper valley of the Spey (20.41) brief shots of pony trekking in the Monadhliath Mountains, Inverness-shire (21.54) shot of steam train passing through countryside with credits superimposed (22.37)