SULISGEIR GANNET HUNT, the aka MEN OF NESS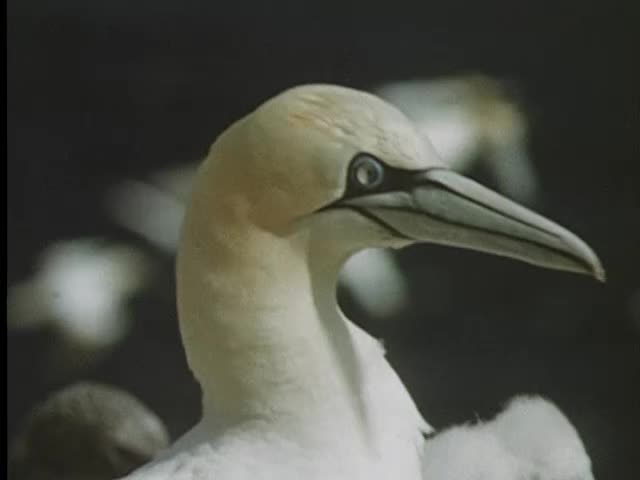 This video is not available to view remotely
Full length video - onsite only
Please read Understanding catalogue records for help interpreting this information and Using footage for more information about accessing this film.
Title: SULISGEIR GANNET HUNT, the aka MEN OF NESS
Reference number: 3590
Date: 1952c
Director: filmed by James MacGeogh
Sound: silent
Original format: 16mm
Colour: col
Fiction: non-fiction
Running time: 37.26 mins
Description: Gannet hunting on the island of Sula Sgeir (a precipitous rocky islet, 50 miles North West of Cape Wrath and 10 miles West of North Rona, along with which it forms a nature reserve).

Film-maker was born in 1914 and was a policeman in Glasgow who later became a Detective Inspector. He acted as police photographer, but was not a professional photographer. His passions were birds and photography. When this film was made he was the first non Ness man to be allowed to join the trip (Ness being an area of the Island of Lewis).

See also ref. 2496 GUGA HUNTERS.
Shotlist: title overlay (.21) shots of gannets circling over Sula Sgeir, shot of gannet hunters sitting on rock face (1.14) brief c/u of birds and l/s of island in sunset, shots of the island, taken from sea, birds circling, c/u gannets and their young on rock (8.18) c/u faces of hunters, shot of seals, man taking a photograph, looking through binoculeurs, c/u seal in water (9.21) l/s fishing boat coming in to anchor in bay, shots of men unloading boxes from boat onto rockface, shot of fishing boat leaving (11.03) shots of men sitting on rocks beside open-air cooker, and drinking from cups (11.22) men emptying out sacks of peat onto rockface, hauling up metal barrels and equipment to top of cliff and to campsite beside a cairn, shot of men putting up tent with shots of surrounding rocks and cairns, stone shelter and standing stones (?) (14.53) c/u of men inspecting their bird hunting implements before setting out on the hunt (16.22) shots of gannets circling, men roped together climbing down rockface catching birds (17.22) l/s two men climbing down sheer rockface, catching birds, with c/u of men catching birds, hauling the birds to top of cliff (18.59) shots of birds on cliff (19.33) shots of hunters catching birds and throwing the dead birds up to the top of the cliff (22.15) c/u of men at the end of the hunt with shots of them carrying away sackfuls of dead birds, emptying the sacks, plucking, gutting and skinning the birds, shot of men carrying skins down cliffs to sacks where they are packed with salt (29.03) c/u of man holding salted skin, man cutting up a skin, putting it in a pot with water, and carrying a pan of potatoes, shot of pans on the boil on an open fire, men helping themselves, eating the meat and potatoes and relaxing after their meal (32.11) brief shot of man using radio [to call fishing boat], shots of men putting bird carcasses onto rowing boat (32.38) shots of fishing boat, c/u seal, shots of men on boat (33.11) shots of birds on cliff taken from boat (33.54) c/u of returning hunters on fishing boat (34.04) shots of pier, unloading of skins and carcasses with shots of men and women sitting on harbour wall plucking carcasses, c/u of women plucking birds (36.30) shot of men and women having a cup of tea at the harbour (36.51) shot of two men putting carcasses onto wheelbarrows and pushing them up a road (37.17) sunset (37.26)