ABERDEEN GLIDING CLUB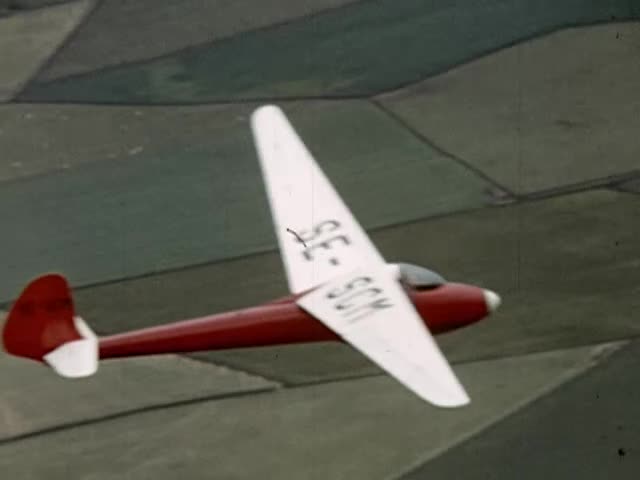 This video is not available to view remotely
Full length video - onsite only
Please read Understanding catalogue records for help interpreting this information and Using footage for more information about accessing this film.
Title: ABERDEEN GLIDING CLUB
Reference number: 3493
Date: 1961*
Director: [filmed by John Campbell]
Sound: sound
Original format: 16mm
Colour: col
Fiction: non-fiction
Running time: 32:42 mins
Description: Amateur footage of Aberdeen Gliding Club with shots of gliders in flight and landing and taking off. Good aerial shots from inside the glider of the Aberdeen countryside.
Shotlist: [Shotlisted at different speed - actual timing is 32.42 mins @ 18 fps]

[col] shots of glider being returned to hanger of Aberdeen Gliding Club in a trailer, shots of "The Swallow" glider being unloaded from trailer and then reassembled for further flight [v/o describes procedure] (3.49) shots of Robin MacGregor preparing to fly in the glider, putting parachute on, shots of glider being wheeled to the take off point on the runway, shot of glider taking off (4.46) brief shot of the glider landing in a field (5.14) group shot of new members of the gliding club (5.56) shots of the winch used to pull the glider when taking off, shots of a glider taking off (7.45) brief shot of a Chipmunk of the University Air Squadron (7.52) shots of a glider being moved into a landing position, the cables being attached and then the glider taking off and landing (9.224) aerial shots of Aberdeen, Dyce and the area around Broxburn, gv's of fields and countryside (10.47) shots of glider taking off, in flight and landing (11.58) general shots of the club members and the hangers in which the gliders are housed (13.08) shots of the Chipmunk on the runway (13.34) aerial shots taken from glider while flying at the Gliding Club at Kinross, views of Loch Leven and the Forth in the distance, shots of other gliders in flight (17.36) gv's of airfield and hangers and surrounding hillside (18.26) shots of light aircraft towing glider at take off, more aerial views from the glider and then of glider being released from the aircraft, shots of the aircraft landing (21.25) shots taken from light aircraft of the glider and the airfield, brief shot of inside the cockpit (23.10) shots of glider on hillside being set up for take off, shots of glider taking off and flying over fields beyond (26.28) shot of biplane towing glider for take off (27.01) shot of light aircraft taking off and landing interspersed with club members having lunch (28.17) shot of remote controlled model aircraft taking off and in flight, performing somersaults and landing (30.54)