MAIN STREETS OF ULLAPOOL 1961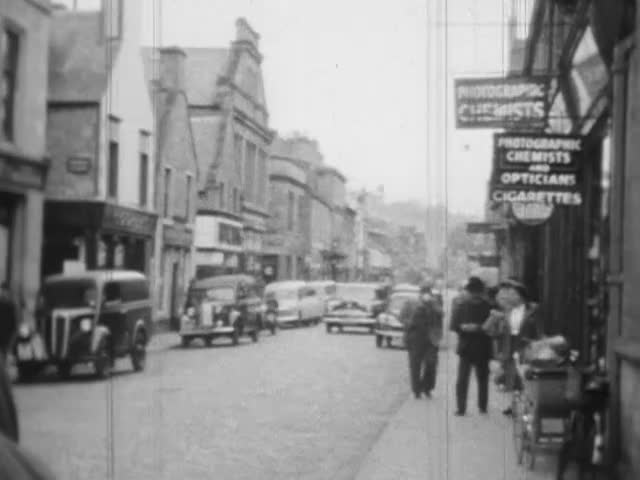 This video is not available to view remotely
needs description?? (clip - onsite only)
Please read Understanding catalogue records for help interpreting this information and Using footage for more information about accessing this film.
Title: MAIN STREETS OF ULLAPOOL 1961
Reference number: 3482
Date: 1961*
Director: filmed by James McIntyre
Sound: silent
Original format: std. 8mm
Colour: bw
Fiction: non-fiction
Running time: 13.00 mins
Description: Scenes of the main streets of Ullapool with shots of a water dam in construction. Amateur footage filmed in the early 1960s.
Shotlist: shots of lorry arriving at water power dam in construction, dam and cranes in b/ground (1.11) gv's of the surrounding countryside; pipe line running downhill; (2.44) pan over shores of Loch Broom? from caravan site next to beach; pan over area surrounding rural road, to two men leaning on an "Electricity Service" van (3.49) scenes of the busy main streets of Ullapool showing cars, people going about their business and shop fronts including car dealership selling Hillman Commer cars (5.04) family scenes in a garden of a house on the sea front (5.18) street scene; ls woman standing at her front door (6.02) pan around back garden; girls and older women walking through garden (6.44) street scene shot from doorway; girls arrive at house (7.13) scenes from the sea front showing people passing by and family members playing, with brief shots of the pier and boats in the harbour. (7.45) girl juggling (8.01) girls playing for the camera by the harbour; individual men walking past, along the sea front (10.01) ls man climbing down pitched roof on a ladder; ls man cycles away, with a toddler balanced on the crossbar, a Drapery and Wool Store in b/ground (10.46) woman buying fish? from a van, man weighs her purchase, then hands the package to her [a man passing pretends to tap him on the head with a roll of paper; after completing the sale the fishmonger? sees the camera and points] (11.10) shots of boats in harbour, intercut with Esso station; rowing boat (11.56).