GARRY PLACE: An Introduction To System Housing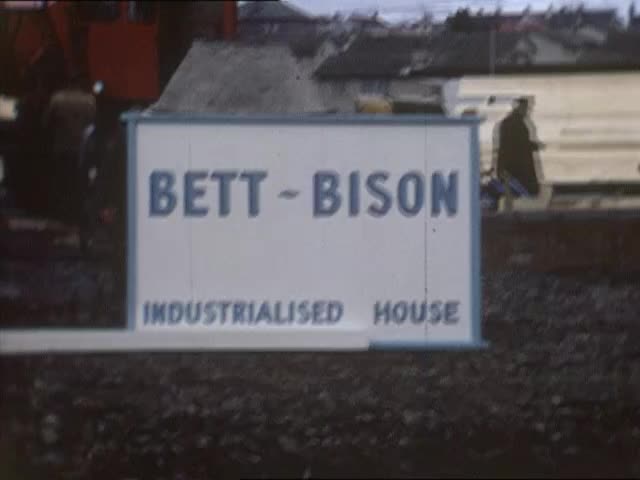 This video is not available to view remotely
Full length video - onsite only
Please read Understanding catalogue records for help interpreting this information and Using footage for more information about accessing this film.
Title: GARRY PLACE: An Introduction To System Housing
Reference number: 3474
Date: 1967
Production company: Bett-Bison
Sound: silent
Original format: std. 8mm
Colour: col
Fiction: non-fiction
Running time: 29.00 mins
Description: The construction of industrialised houses, using prefabricated elements, by Bett-Bison in Garry Place, Dundee. The construction was completed in ten days.
Shotlist: A Bett-Bison production. Title. (0.15) Gvs over housing construction site at "Garry Place". (0.42) Cranes in view, slabs of concrete, prefab house walls, roofs and workers; factory building in b/ground (1.40) shots of housing under construction, crane (2.09) ints. man in site office, on phone; ms man working on plans using a rule (2.29) c/u sign "Garry Place" (2.34) c/u Bison crane; gvs men laying road surface; ls forks heating over a brazier (3.15) men measuring near prefab roof, on ground (3.38) c/u sign "Bett - Bison Industrialised House"; (3.53) prefabricated wall section moved into place by crane (5.13) c/u prefab roof; c/u foundation; ls work on prefab wall (6.17) shot of vans loaded with walls; another section is craned into place, c/us of the fit (7.33) man using theolodite (7.41) extreme c/u aggregate wall finish; c/u wall being lined up with foundation (8.11) gravel is unloaded from a lorry (8.28) Shots of other walls being guided in and secured (11.00) shots walls being assembled, with c/us joins being made (12.01) gvs internal walls and ceilings being lowered into place in semi-detached structure (13.35) Shots of second storey being assembled, from first floor; pan over slot where wall will rest; c/u unfinished upper edge of wall, where cement is still exposed, next to part where 'ceiling/floor' section is installed (14.11) gvs Second storey exterior walls are assembled (15.16) ints. view from 2nd floor window and interior (15.29) c/u exposed pipe, poking through floor (15.37) exts. last exterior 2nd storey wall lowered into place (16.25) workers mixing cement; gable end is slotted into place; c/u holes in gable end to make joint (17.45) gvs prefab wooden roof structures are craned into place; shots of workers on roof (21.22) brief shot crane leaving; ls workers walking over roof (21.33) c/u gutter; ls men putting up gutter facing (22.02) tar boiler? lorry arrives [furnace visible in tank]; gvs men working, rolling out material on roof; (22.46) shots wooden flooring; materials arrive on lorry (23.20) a window frame is replaced; exts. exterior semi-detached house, painter working on gutter facing (24.01) ints. construction of stud wall (24.28) exts. copper boiler and kitchen units are moved into house (25.22) ls machine lifting tiles up to roof on rails; shot of tiles stacked on roof (25.40) ls earth mover; exts. bathroom fixtures beside house (26.15) pan over street, including new "industrialised" semi-detached houses (27.34) shots of [plumbing?] brick structures in ground next to house (26.39) brief ints. finished bathroom, hallway, kitchen (27.17) gvs work, paving garden and laying down topsoil (28.12) exts. a large group of visitors enter one of the finished houses (28.51) The End (29.00)