GEORGE'S WEANS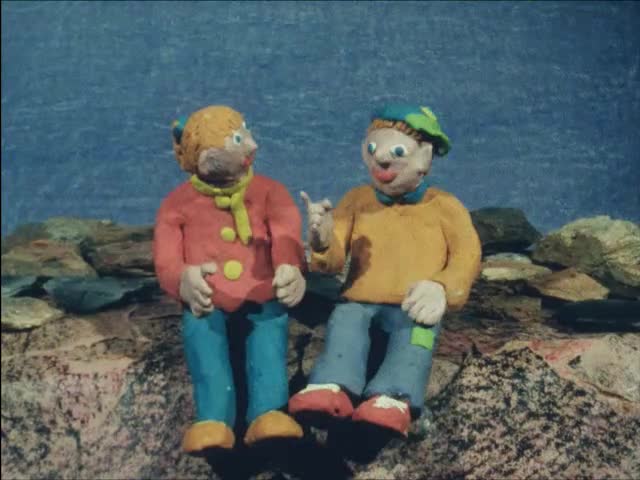 This video is not available to view remotely
Video 1

(currently displayed video)

Full length video - onsite only

Full length video - onsite only
Please read Understanding catalogue records for help interpreting this information and Using footage for more information about accessing this film.
Title: GEORGE'S WEANS
Reference number: 3466
Date: 1996
Sponsor: The Scottish Film Production Fund, The Scottish Arts Council Lottery Fund in association with Grampian Television plc, Scottish Television plc. Supported by Education Services, West Lothian Council
Producer: Jessica Langford
Production company: Wintonhill Animation
Sound: sound
Original format: 16mm
Colour: col
Fiction: fiction
Running time: 7.33 mins
Description: One of a series of ten animation films made by children in small village primary schools in Scotland, also involving the local community. The series was broadcast on Scottish Television and Grampian Television, and distributed on video through schools and libraries.

George's Weans : Animated film on Winchburgh's past and the shale oil industry, made by pupils of Winchburgh and Holy Family Primary Schools.

See also refs 3464, 3465, (3467), 3468, 10026
Credits: Made in Winchburgh by Primary 4, 5, 6, 7, Holy Family Primary School and Primary 7 Winchburgh Primary School West Lothian

anim. Jessica Langford, Mary Morrison
art ass. Susan du Feu
sd. rec. Paul Kane Soundplace Studio, Livingstone
Co-ordinated by Susan Thores, Arts Development Officer, West Lothian Council
exec. p. Eddie Dick
p. Jessica Langford
Shotlist: title. Stop motion animation film. Plasticine children are shown feeding ducks from a bridge. Children's crayon drawings demonstrate the train line and the children's houses. The drawings are animated to show people golfing and bowling at Winchburgh Bowling Club. The children play hide and seeks and both fall down an old mine shaft. They eat a miner's dinner and meet some of the miners, one of whom turns out to be the children's grandfather. The grandfather describes how life was like when he was young. He describes how his mother used to cook on the range, he and his brothers slept in a box bed and his father who worked in the shale mine had a bath in the kitchen. The grandfather started in the mines when he was 14 and worked all week. He describes playing in a brass band and meeting the children's grandmother (the story is illustrated by more animated children's drawings). The grandfather describes working in the mines and falling ill and dying at 50. The children are given their grandfather's gold watch and get a ride off a mine pony back to the modern world via a secret tunnel. ecs.