EDINBURGH: HOME OF THE FRIENDLY GAMES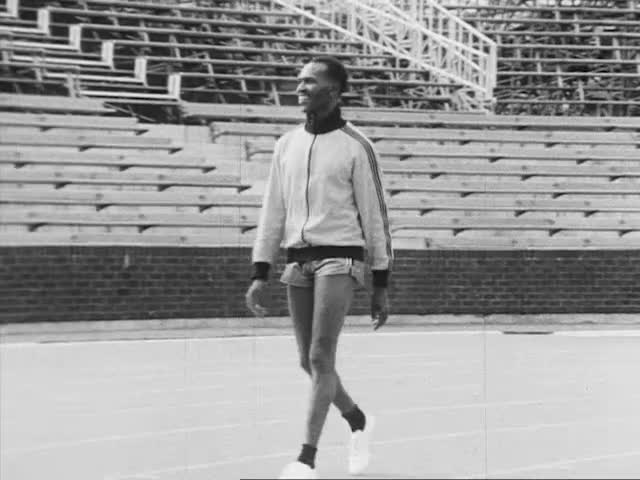 This video is not available to view remotely
Video 1

(currently displayed video)

Full length video - full length available onsite

Members of the Commonwealth Games team from Ghana arrive in Edinburgh to a typical Scottish reception. (clip)
Please read Understanding catalogue records for help interpreting this information and Using footage for more information about accessing this film.
Title: EDINBURGH: HOME OF THE FRIENDLY GAMES
Reference number: 3420
Date: 1970
Sound: sound
Original format: 16mm
Colour: bw
Fiction: non-fiction
Running time: 10.14 mins
Description: Sports documentary profiling the 1970 Commonwealth Games held in Edinburgh. Includes shots of athletes from Commonwealth nations training in newly built facilities and visiting the city.
Shotlist: gv's of Edinburgh zooming on castle; shot of main gate; Scott Monument; Princes Street Gardens; deserted Edinburgh Streets; Castle being opened up in preparation, milk van, c/u pet cat, guards etc. (1.37) athletes from Ghana arrive at Edinburgh Airport; welcoming ceremony, with three pipers (2.21) ints. shuttle bus; athletes arrive at Edinburgh University's Halls of Residence the venue for the Commonwealth Games Village (3.03) Shots of athletes of different Commonwealth nations in the village; flag raising ceremony held to welcome New Zealand, Malawi, Hong Kong and Uganda (4.17) athletes training in foggy conditions on Arthur's Seat, running and cycling (4.51) training at Meadowbank stadium; javelin, shot put, running etc. (6.25) Commonwealth swimming pool, divers and swimmers in training [v/o mentions this will be the first "metric" games] (7.09) athletes signing autographs for children in the Commonwealth Village; child and Nigerian athlete play-box (8.06) athletes from Bermuda walking around the streets of Edinburgh and walking through the castle (9.35) athletes gathered in a hall for a pre Games party; gvs Scottish Country Dancing (10.14)