CONSTRUCTION AT EYEMOUTH HARBOUR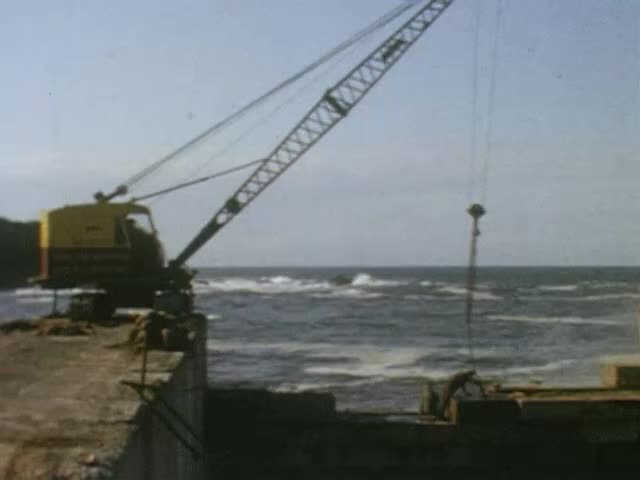 This video is not available to view remotely
Video 1

(currently displayed video)

Full length video - full length available onsite

Parts of the harbour have been drained of water as cranes lift huge blocks to build new sea walls. (clip)
Please read Understanding catalogue records for help interpreting this information and Using footage for more information about accessing this film.
Title: CONSTRUCTION AT EYEMOUTH HARBOUR
Reference number: 3368
Date: 1964
Sound: silent
Original format: std. 8mm
Colour: col
Fiction: non-fiction
Running time: 11 mins
Description: Views of the deepening of Eyemouth harbour in 1964, followed by the reopening ceremony and shots of the fishing boat "Star Divine".
Shotlist: No credits. Gv's construction of new harbour at Eyemouth, shots earth moving and masonry being laid in drained harbour. (1.48) crane building wall over harbour mouth; pan over empty harbour (3.19) finished harbour (3.35) opening ceremony?; ls VIP's arrive by car (4.16) fishing boats decorated with bunting enter harbour, including BK 47 "Star Divine" (5.01) ls dignitaries in car (5.44) group standing under RNLI flag; ms crew on lifeboat in red hats, crowds standing on harbour wall in foreground; dignitaries visit a second boat (7.15) c/u dignitaries and Provost; visitors leaving; (8.08) gvs "Star Divine" leaving harbour and steering near the harbour (9.59)