COLINTON YEAR, the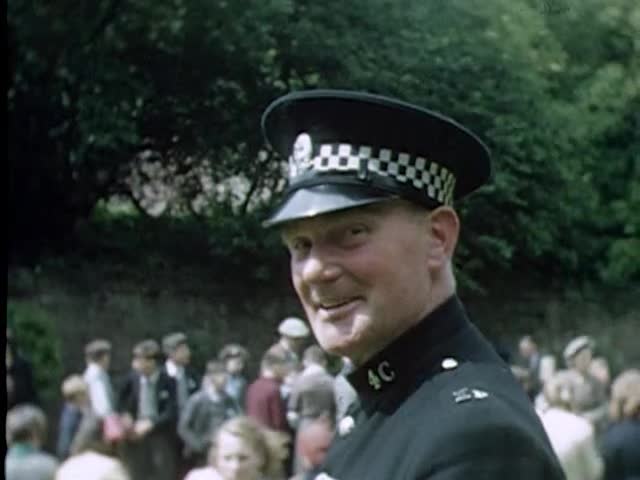 This video is not available to view remotely
Full length video - onsite only
Please read Understanding catalogue records for help interpreting this information and Using footage for more information about accessing this film.
Title: COLINTON YEAR, the
Reference number: 3286
Date: 1950 - 1967
Director: filmed by William S. Dobson
Sound: silent
Original format: 16mm
Colour: bwcol
Fiction: non-fiction
Running time: 13.00 mins
Description: Scenes of village life in the Edinburgh parish of Colinton 1950-1967. (13 mins)

From collection of film of village life in the Edinburgh parish of Colinton 1945-1971.
Shotlist: [A mixture of colour and black and white footage in non-sequential order] [Col] The Colinton Year 1950 Gymkhana at the Polo Fields. Horses, spectators, dogs, including a large borzoi, sideshows, refreshments, a Royal Scot Pipe Band, ? T.A., a frisky horse showing its paces, a rider not quite making a jump - William Dobson's daughter in green blazer (2.09) [b&w] 15 May Home Guard Reunion various gentlemen arriving at ? the Loan Hall(2.52) people arriving at the Loan Hall in formal evening dress (3.18) 1945* A tree blown down onto the garage opposite St Cuthbert's Episcopal Church, being sawn up (3.39) [Col] a ceremony at the Parish Church, Lord Provost Herbert Brechin. The dedication of a seat. The inscription reads "Colinton Amenity Association 1957. Presented by Members and Friends in Commemoration of the Services of the President, Sir John Falconer W.S. LL.B. etc. Lord Provost of the City of Edinburgh 1944-1947 During the Inception of the Edinburgh International Festival of Music and Drama" (4.45) Colinton 1962 "Peter Connelly's Last Delivery Colinton 1962" a postman making his rounds of Colinton presumably on the day of his retirement. Various scenes of houses and householders, one delivery taking place in Carnethy Avenue. A long conversation with the residents of a house named "Fairfield", emptying a pillar box, four postmen on the seat opposite St Cuthbert's Episcopal Church (7.06) 1967* "Winter Sports on the Pentlands" views of skiers on the ski slope, the chair lift and views over Edinburgh The End (8.48) "The High Constables Children's Treat" taking place in Colinton Public Park with the large house in the background, many children present, marquees in the grounds, a football game in progress, group of dignitaries, Police Constable No. 4C in a high necked tunic (9.36) [b&w] Parachute display at Craiglockhart a display of parachute jumping at Meggetland, photographed at too great a distance to make out any detail, some close-ups of the spectators (10.57) [Col] "The Municipal Election" Trams at Colinton terminus, the Primary School as the venue for polling, various views of people going to and from voting, policemen in high collar uniform tunics. Herbert Brechin present, tramcar at the terminus (11.43) [b&w] "Vote for Brechin", a policeman in the police box, voters on street filmed in sunny weather (12.31) "The General Election" 25th October 1951. people with umbrellas up and policemen with waterproof collars up. Sign on a car saying "Socialism Has Failed Vote For Hope" (13.21).