OUR HOME GUARD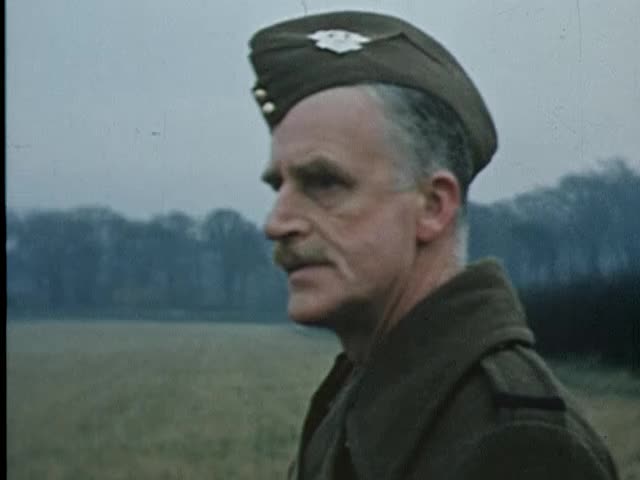 This video is not available to view remotely
Full length video - onsite only
Please read Understanding catalogue records for help interpreting this information and Using footage for more information about accessing this film.
Title: OUR HOME GUARD
Reference number: 3282
Date: 1940 - 1945
Director: filmed by William S. Dobson
Sound: silent
Original format: 16mm
Colour: col
Fiction: non-fiction
Running time: 11.58 mins
Description: A film about the Colinton Home Guard.

From collection of film of village life in the Edinburgh parish of Colinton 1945-1971.
Shotlist: OUR HOME GUARD. OURS WAS A PEACEFUL VILLAGE. Gvs village. Local shoemaker George McLean, Waddell's garage with David Waddell and William Cow, local school headmaster, William Dobson on left. Eddie Downes the market gardener in greenhouse (1.00) group of riders on Woodhall Road at 'the Hollies' with a few spectators. Possibly a 'beating of the bounds' or similar, the bowling green, fisherman in the Dell. (2.00) THE WAR CLOUDS GATHERED. Aircraft overhead, naval ship in the Forth. (2.20) [b&w] news footage German troop movements, WAR, news footage of bombing raid newspaper headlines (3.19) [col] [1940} meeting in village hall to set up local unit of the LDV. Meeting addressed by civilian officials. (George McLean shoemaker on left - Mr Hardy smoking) Local men sign up, including Herbert Brechin and William Dobson (4.30) THE AWKWARD SQUAD - the new unit on patrol, no uniforms but carrying gas masks (4.56) THE NIGHT PATROL AND THE 'TAIL' OF THE RABBIT. patrol in the dark, with rifles. One of the group of patrollers sheepishly produces a dead rabbit from under his coat. (5.28) WE HAD OUR ANXIOUS MOMENTS - group of men playing cards on night watch, drinking tea. guardsmen in new uniforms exit the unit HQ Spylaw House and line up for inspection (7.33) unit on manoeuvres in field, digging trenches, scaling building by rope sling, Mr Muirhead in middle of group of 3 with cigarette - grenade and rifle drill. (9.26) [b&w] newspaper headlines – end of the war. (9.37) [col] VE Day dancing in the Ross bandstand, Edinburgh, bonfire. Victory procession along Princes Street, Colinton Home Guard unit in the parade at Binns corner. gvs parade of military units (11.06)PEACE HAD RETURNED TO OUR VILLAGE. Shoppers queuing at local shop, man demolishing air raid shelter. OUR HOME GUARD BECAME HISTORY Colinton HG unit poses for group photo (sequence shot c.1941) Front row, Rev Dr Mackie Laing, in the centre. John Muirhead on his right. Herbert Brechin 4th to his right. William S Dobson 3rd to his left. Second row. 5th from left Alexander McBain (age 17). David Waddell behind the minister. c/u Mr McLean saluting the camera. THE END. (11.58)