OLD GOLSPIE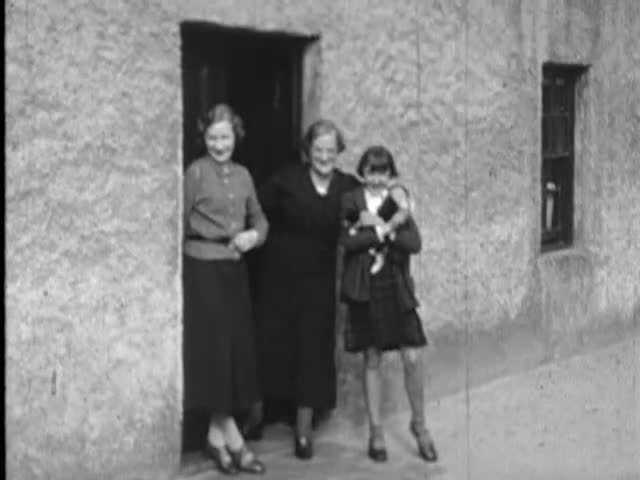 This video is not available to view remotely
Full length video - onsite only
Please read Understanding catalogue records for help interpreting this information and Using footage for more information about accessing this film.
Title: OLD GOLSPIE
Reference number: 3221
Date: 1928 - 1953
Director: [filmed by Donald McKelvie and W R Sutherland]
Sound: silent
Original format: 16mm
Colour: bwcol
Fiction: non-fiction
Running time: 50.28 mins
Description: Compilation of amateur film of events in and around Golspie. Includes shots of the visit of the Fleet to Invergordon in May 1957.
Shotlist: shots of gardens (4.37) [1953] the Coronation visit, shots of horseguards and royal procession with shots of Queen Elizabeth and Prince Philip in an open carriage, a pipe band, streets decorated in bunting and a brass band (7.14) [dark] (7.42) local sports day (8.33) [col] a bonfire (8.48) [blank] (8.54) Visit of the Fleet to Invergordon 1957 visuals naval vessels (11.28) [b&w] forestry workers cutting trees (that have possibly been blown down) (11.53) shot of a Jaguar car driving onto a cargo plane and shots of light aircraft (12.20) shots from aircraft of ground below (12.52) shots of a loch and seashore (14.36) shots of steeple jacks climbing up base of a statue with ladders (15.13) brief shot of a large house/castle on the edge of a cliff (15.20) shots of golfing (15.59) a woman and girl in a garden playing with a ball (16.23) brief shot children playing round a haystack (16.29) woman and girl in a garden with kittens (17.03) shop fronts and village street and woman picking flowers in garden (18.00) [fogging] (18.18) land and seascape (18.43) pipe band playing in grounds of large house (20.03) [blank] (20.06) high seas breaking on sea front (22.01) brief shot people beside parked cars (22.12) shots of racing cars speed racing (22.30) shot of antique road vehicles, including a bicycle, sitting outside a house (23.11) [col] antique vehicles outside house (23.55) racing cars speed racing (24.12) [blank] (24.18) same footage as (11.28) - (22.01) [b&w] [blank] (34.42) forestry workers felling trees and moving logs on horse-drawn cart, putting them through sawmill and shots of cut wood piled up (36.20) [1936] football team getting into bus [Brora Rangers?] and bus drawing away from "Ross's Grand Hotel" (36.55) players going on pitch and opening ceremony for Brora's new football ground, flag hoisted, shots of game [Brora Rangers v Glasgow Celtic] underway (38.51) brief shot coach arriving back to town (39.07) family at house with children playing in garden (40.32) family relaxing in garden (41.30) brief shot postman delivering letter (41.35) ext. "Sutherland Home Industries" and shot of men leaving that building (41.54) visuals landscape (42.40) l/s highland dancing (speeded up) at highland games (43.54) shot of people in garden (45.47) [1920] shot of a boat and Golspie fishermen (46.08) golfing (46.32) [early '30s] exts. Dunrobin Castle (47.04) people at a garden party at Dunrobin Castle [Duke of Sutherland's] with tennis and bowling (47.57) landscape (48.32) golfing (48.52) grouse (?) hunting (49.54) golfing (50.20) man working a lathe (50.28)