RAINDROP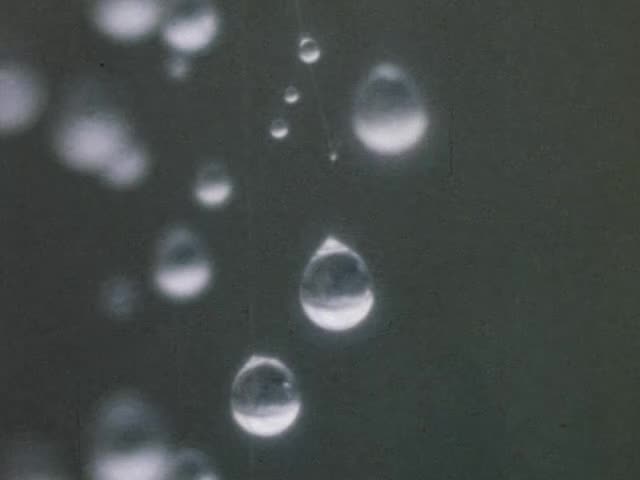 This video is not available to view remotely
Video 1

(currently displayed video)

Full length video - full length available onsite

The beauty of nature in close-up - raindrops on leaves and spiders' webs. (clip)
Please read Understanding catalogue records for help interpreting this information and Using footage for more information about accessing this film.
Title: RAINDROP
Reference number: 3149
Date: 1975
Director: d. Ed [Edward] McConnell
Sponsor: Films of Scotland
Production company: IFA (Scotland) Ltd
Sound: sound
Original format: 16mm
Colour: col
Fiction: non-fiction
Running time: 11.00 mins
Description: The story of a drop of rain, from dripping leaf to rushing stream.

See also ref. 6860 for a similiar film made by McConnell.
Credits: m. composed and played by Iain McHaffie
ph. Edward McConnell

Shotlist: Title (0.08) c/u drops attached to undersides of leaves, spider's web, rosehip. (1.53) drops hitting calm water; c/u interference between waves (2.39) shot calm flowing water, using special effects (3.18) gvs water flowing away from a source spring; stream (4.34) c/u rowan, beech, foxglove (5.02) shot river washing over granite stones (5.44) re-enactment group reaping a wheat field using scythes, in costume. (7.21) re-enactors sing to a fiddle tune (8.17) c/u river running white (9.10) pan up still bw photograph of Indian? man and cow seated on parched farmland (9.30) c/u river flowing (10.08) swan swimming on a calm stretch of river (10.33) ecs (10.57)