PORTESSIE GALA FROM 1956 to 1961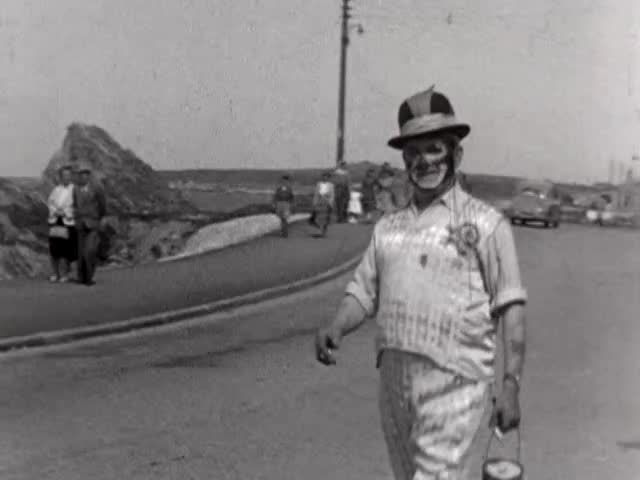 This video is not available to view remotely
Full length video - onsite only
Please read Understanding catalogue records for help interpreting this information and Using footage for more information about accessing this film.
Title: PORTESSIE GALA FROM 1956 to 1961
Reference number: 3133
Date: 1956 - 1961
Director: [filmed by Jack Johnston, Ian Johnston]
Sound: silent
Original format: 16mm
Colour: bwcol
Fiction: non-fiction
Running time: 25.15 mins
Description: Celebrations at the Portessie Gala, Banffshire in the years 1956 - 1961.

The father (Jack) and son (Ian) team of filmmakers were the proprietors of the Banffshire Advertiser. Jack Johnston also owned the local photography shop.

Shotlist: [COL] PORTESSIE GALA JULY 1956 gvs preparations for the gala, crowds milling about (0.18) gv of parade through the town, including floats, children in costume, onlookers standing on pavement (1.04) [BW, 1953*] shot of gala queen walking by [rather obscured] shot of the Queen standing on podium, an RNLI (Royal National Lifeboat Insitution) flag is draped in background. gvs as decorated floats drive past, some have Union Jack flags. Various local people are recorded smiling and watching the events (3.02) gvs gala parade including Boy Scouts, Girl Guides and Boys Brigade. Gvs parade and various floats (3.56) brief c/u man walking along harbourside to camera (3.59) footballers pose on steps for team photograph, gvs of gala football match - "women versus clowns" (4.45) [COL] gvs adults and children doing Scottish country dancing in field (6.13) shot of boat bedecked with flags at sail (6.38) [BW, 1953*] continued gvs fishing boats decked out with bunting taking passengers out sea (7.02) and returning to harbour, including the RNLB 'Glencoe', Glasgow (7.43) l/s boats at sea, as seen from shore (8.08) [COL, 1955*] marching pipe band leads the gala procession along the coastal road, floats and children all dressed up follow (10.01) [BW] people walking along the coastal road, some are dressed up (10.29) exts gathering of crowds, listening to speech (?) (11.24) [COL, 1956*] 1957 [BW] gvs pipers marching with crowds looking on (11.38) gvs gala parade (12.02) [COL] same as previous shot, including boy scouts, girl guides and boys' brigade (12.26) exts. of the crowning of the gala queen and ceremony (13.09) gvs of gala football match - "women versus clowns" - the Gala Queen looks on (13.53) fishing boats taking people for rides, departing from harbour (15.40) gvs various floats - these include an RNLI float with the flags reading 'Ready to Answer the Rockets' and 'Thanks to those aye at their post' (16.13) very brief shot of a policeman directing traffic by hand (16.16) gvs floats, pipe band marching along (16.50) 1958 gvs busy scenes as the Gala procession take places - pipers marching through the town and various floats. Includes a brief shot of 'Mayne's bus (18.46) 1959 [Kodachrome, 1959*] gvs of numerous fishing boats with bunting and flags setting out to sea with passengers (22.38) 1961 gvs of fishing boats leaving harbour with passengers, also views of boats from beach with spectators looking out to sea (24.18) Gala queen on float followed by various floats, includes a very brief shot of a float named 'Black and White Minstrel Show' (25.15)