CALEDONIAN ACCOUNT, the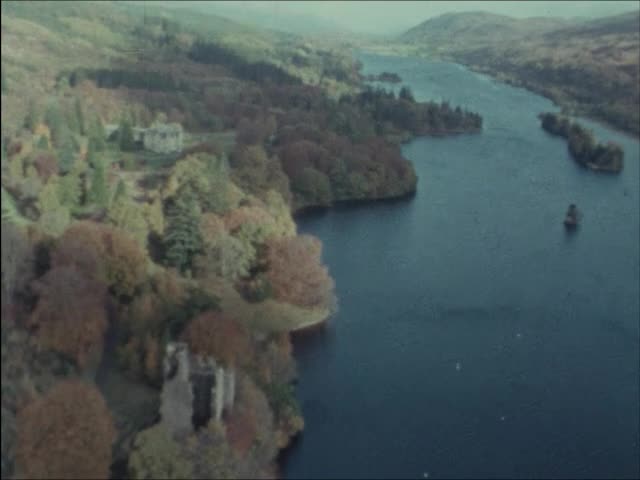 This video is not available to view remotely
Full length video - onsite only
Please read Understanding catalogue records for help interpreting this information and Using footage for more information about accessing this film.
Title: CALEDONIAN ACCOUNT, the
Reference number: 3094
Date: 1976
Director: d. Brian Crumlish
Sponsor: HIDB
Production company: Breck Films
Sound: sound
Original format: 16mm
Colour: col
Fiction: non-fiction
Running time: 20.22 mins
Description: The Caledonian Canal, built between 1803 and 1822 by Thomas Telford, to stimulate Highland social and economic regeneration in the post-Colloden era, while at this time Sir Walter Scott was romanticising the area in his writings. In the course of an autumn journey through the present day canal from Inverness to Fort William, Telford and Scott discuss their differing attitudes.

See paper archives for letter of protest over the portrayal of Scott in the film.

Credits: w. & p. Douglas Eadie
ass.d. Steve Clark-Hall
m.d. Owen Hand
sd. Alex Brown
cam. Jon Schorstein
ed. Bill Landale
ass. ed. Mike Coulter
ass. cam. Gordon Hickey
ass. sd. Colin McNab
Bertie Scott as Thomas Telford
John Bett as Sir Walter Scott
in association with Jacobite Cruises

Shotlist: No titles. Shot of Loch Ness (0.07) Small fishing trawler crossing the loch (0.29) Cruiser crossing one of the Caledonian Canal locks (0.40) cruising down the canal into the Loch (2.34) The ruins of Castle Urquart on the lochside (2.54) Two men dressed in period costume, (Telford and Scott), look out onto the waters from the ruins, conversing on what could have been (3.45) Final shot of the castle (3.56) The boat continues its journey through the Great Glen (4.09) Telford and Scott on the boat, Scott spying out the landscape with a telescope (4.19) Views of a hydro electric plant on the shores of the loch (4.34) Telford and Scott discuss the pros and cons of industry (5.04) Overhead view of the canal and the surrounding countryside (5.17) At night on the boat, Telford and Scott relaxing, the difference between Scott's romanticism and Telford's realism is clear from their conversation on Culloden and the aftermath in the Highlands (9.35) At another lock (9.58) Entering Loch Oich (11.00) Visuals of landscape (11.41) Shot of Glengarry Castle from the boat, the conversation brings forth its history (12.39) Aerial views of castle and surrounding landscape (12.53) Shot of a secret opening on the banks of the river (13.37) Aerial view of mountains (13.44) Scott and Telford outside ruined house talking about the clearances(15.09) Gvs trees on the landscape (15.29) Boat passes through the next lock (15.39) Lock keeper heads off on his scooter to open up the small bridge further upstream (16.05) L./s the bridge opening (16.12) Same man in a rowing boat crossing to the other side of the bridge to repeat the same proceedure (16.40) Boat passes through (16.55) L/s of boat winding down the river (17.07) Boat passes Ben Nevis, Scott is praising Telford's creation, Telford talks of change (18.25) Camera pans in on scenes of industrial desolation from the boat (18.48) Sailing towards the port in Fort William they both sum up their respective arguments (19.31) Entering the harbour (20.05) Shot of factory on banks of river (20.18) Overhead view of the canal (20.22) [Incomplete]