JUBILEE CELEBRATIONS OF THE "G. A." AT PERTH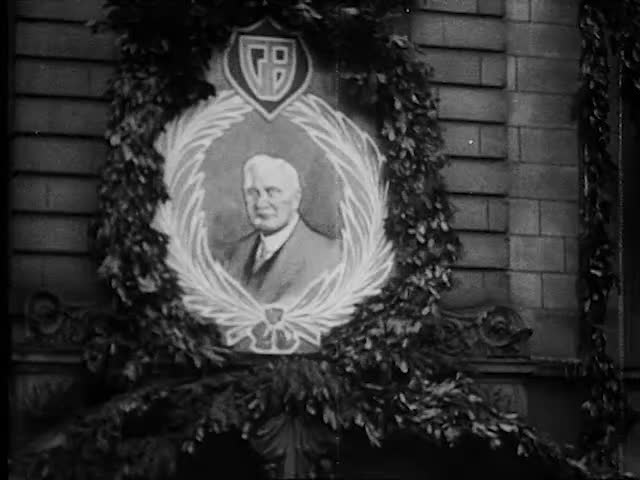 This video is not available to view remotely
Full length video - onsite only
Please read Understanding catalogue records for help interpreting this information and Using footage for more information about accessing this film.
Title: JUBILEE CELEBRATIONS OF THE "G. A." AT PERTH
Reference number: 3039
Date: 1935
Sound: silent
Original format: 35mm
Colour: bw
Fiction: non-fiction
Running time: 5 mins
Description: A Garden Party for the staff of General Accident to celebrate the company's Jubilee, 18 June, 1935.

General Accident company was formed in 1883 by members of the local business community after the introduction of the Employees Insurance Act.

The train arriving at the station was bringing Directors from around the country - met by chauffeur driven cars. This was the usual pattern for meetings of Directors. In 1935 a Directors' meeting was held to co-incide with the special jubilee celebrations held in the Norie-Miller Park at the Rodney Pavilion which was quite new then, which was the GA staff restaurant.
Shotlist: title (0.09) ext. General Accident head office building in Perth High Street, decorated for Jubilee celebrations with shots of manager Francis Norie-Miller getting into a chauffeur driven car outside building (0.39) shot of Perth station platform with rail employees waiting for a steam train to come in, c/u of steam engine and train arriving and passengers [GA local (branch office) directors, branch managers and leading subsidiary companies' officials] being met on platform [from the non-stop special train from Euston Station] for the GA celebration (1.08) brief shot of taxis leaving station [taking passengers to their hotels] (1.12) ext. Rodney Pavilion, Perth with the Perth pipe band playing in grounds (1.27) shots of guests to the garden party smartly dressed posing for a photograph and taking tea (including William Low, founder of the Low food retail company) (1.54) m/s and c/u shots of pipe band playing (2.19) brief shot of men preparing for game of bowls, and of other guests (2.26) shot of waitresses preparing the urns for tea (outdoors), guests sitting in garden at tables laid out for tea (2.42) shots of guests taking tea, intercut with shots of men playing putting, guests playing tennis, sitting in garden chatting, playing bowls (3.54) shot of onlookers peering over a high wall at the garden party (4.00) brief shot guests Scottish country dancing to a pipe band (4.09) gvs guests strolling in grounds, taking tea (4.46) shots of guests and brief shot of pipe band leaving (5.16)