GALES, FOOTBALL AND LAUNCH 'SPES MELIOR II'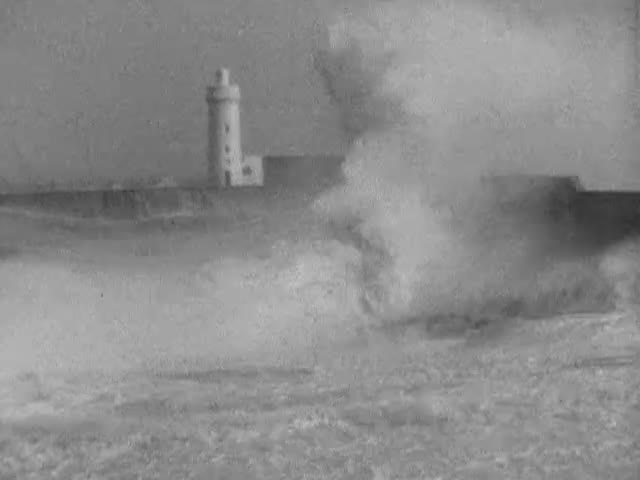 This video is not available to view remotely
Full length video - onsite only
Please read Understanding catalogue records for help interpreting this information and Using footage for more information about accessing this film.
Title: GALES, FOOTBALL AND LAUNCH 'SPES MELIOR II'
Reference number: 3001
Date: 1953 / 1959*
Director: [filmed by Jack Johnston, Ian Johnston]
Sound: silent
Original format: 16mm
Colour: bwcol
Fiction: non-fiction
Running time: 21.50 mins
Description: Storm damage, a football match and a royal visit in the town of Buckie.

The father (Jack) and son (Ian) team of filmmakers were the proprietors of the Banffshire Advertiser. Jack Johnston also owned the local photography shop.

Credits: filmed by Sketchbook Films
Shotlist: [COL] [1953, Gale, Buckie] Visuals of storm. Shot from within harbour wall, showing fishing boats safely moored and water pouring over harbour wall, also shots of rough seas outside harbour wall with lighthouse in the distance [Please note change to B&W at 38ft, 1.26 mins] (2.40) -blank- (2.45) [B&W] Damage at Letterfourie Visuals of trees torn down in park surrounding country house, some gvs in snowy conditions (6.27) Taken During 1953 gvs golfing at Buckpool Golf Course, Buckie (9.19) 2nd Round Scottish Cup - 7th Feb. 1953 gvs football match at Buckie Thistle Football Club grounds (10.32) gvs Buckie harbour with boats going in and out. Gvs men at work on deck. Cleaning and inspecting of a vessel, there are women in uniform lined up aboard. The boat leaving harbour; pan over harbour (15.32) Launch of the 'Spes Melior II' built by G. Thomson & Son, Buckie gvs local dignitary launching boat (16.28) The 'Spes Melior II' ran aground on the rocks at North beach (?), Peterhead on 1st May 1954 becoming a total wreck Miscellaneous shots of friends (?) in and around Buckie, featuring gvs women and dog in garden, gvs back garden and houses, people waving to camera (17.39 Ian Sutherland Day After Accident shot of man limping (hirpling) with sore leg out of building and chatting to camera (17.59) The Car shot of same, possibly after an accident. Shot of car being hand cleaned (18.31) Spey Farm women walk and sit in garden (19.12) c/u sign for Strathlene House Hotel exts same and people walking in foreground (19.29) sign for Fochabers exts rooftop and exts Christie's Nurseries. Street scenes, generally empty (20.03) Mr & Mrs Sam Grant, Huntly gvs same, as they stand for camers in front of their car with their children (20.35) The End. Sketchbook Films (20.38) -blank- (20.45) [COL] Buckie from the Sea Views of Buckie from the sea (21.41) Shots of the Queen arriving in Buckie and also on platform receiving local people (22.05)