PETER FAIR 1954 - 1960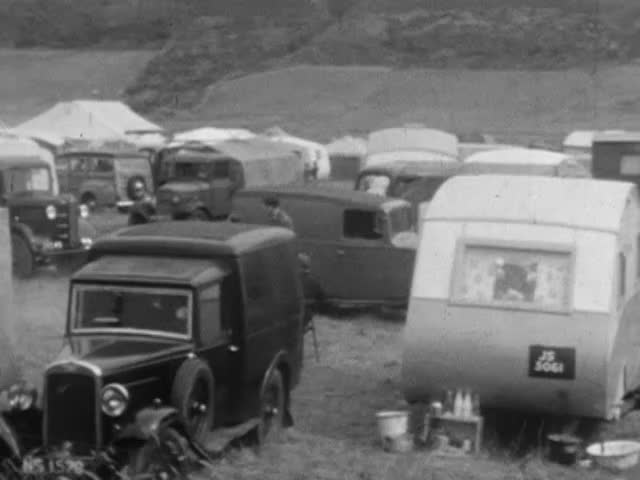 This video is not available to view remotely
Full length video - onsite only
Please read Understanding catalogue records for help interpreting this information and Using footage for more information about accessing this film.
Title: PETER FAIR 1954 - 1960
Reference number: 3000
Date: 1952c - 1960
Director: [filmed by Jack Johnston, Ian Johnston]
Sound: silent
Original format: 16mm
Colour: bwcol
Fiction: non-fiction
Running time: 29.27 mins
Description: The Peter Fair, held in same rural location each year, covering the period 1954 - 1960. Shows, side shows, rides and people enjoying themselves.

The father (Jack) and son (Ian) team of filmmakers were the proprietors of the Banffshire Advertiser. Jack Johnston also owned the local photography shop.

Credits: [filmed by Sketchbook Films (?)]
Shotlist: [BW] field full of caravans and tents at the Peter Fair (0.27) crowds at the Fair, gvs rides such as merry-go-round (0.57) children eating candy floss (1.07) young couple wave to camera, the woman is rather shy (1.11) dodgems (1.21) gvs crowds and rides. including waltzers (2.44) men erecting tent, hammering pegs into the ground (2.50) gvs people at the Fair, including shot of policeman, women with babies in prams (3.20) [poor image quality] gvs fair (3.46) [image quality improves] gvs crowds at the fair, includes shot of three young women walking along, shot of children eating toffee apples, and dancing girls on outdoor stage (4.11) gvs Fair, various crowds of people coming out of shows such as 'Sleeping Beauty' or 'Zoo' (4.48) Peter Fair 1954 gvs dodgems, gvs of very busy fair, rides and people enjoying themselves (6.42) policeman exits police tent (6.51) men stand about and enjoy a smoke (7.05) children and parents at the Fair, they look as if they have just got off a bus (7.12) [COL] gvs Fair, lots of people pose for camera (8.34) men in white uniform stand at the 'Eldorado Ice Cream' stall (8.45) [BW] 1955 gvs Fair with lots of people posing for the camera (10.06) ints refreshment tent, where tea and cakes are served (10.32) [COL] young families pose for camera (10.59) gvs Fair (13.00) very brief ints refreshment tent (13.05) gvs Fair (13.45) [BW] Peter Fair 1956 gvs Fair (15.30) [COL] gvs Fair, lots of different people pose for the camera (17.13) 1957 gvs Fair (19.08) [BW] gvs continued gvs around the car and caravan park, including the 'Army Information' van (19.56) [COL] 1958 (19.59) [BW] gvs Fair (20.26) [COL] gvs continued (21.33) 1959 people and policemen in car park area (22.00) gvs Fair (25.59) 1960 gvs Fair children enjoy a pony ride, gvs car park area and people posing for camera, policemen directing traffic (26.28) gvs Fair (28.34) [BW] gvs Fair (29.27)