DUNOON - HOLIDAYS UNDER SAIL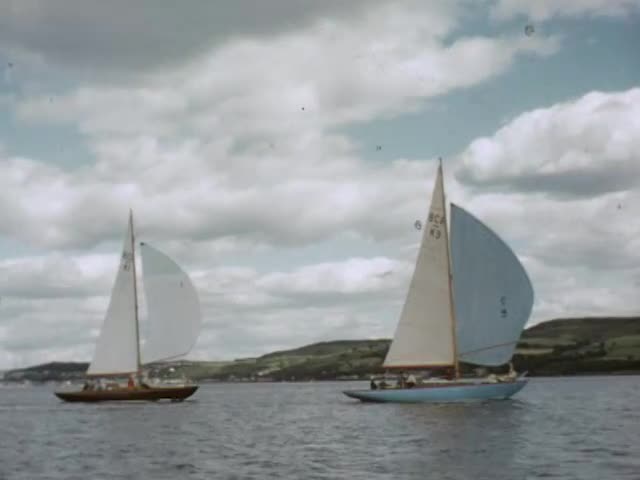 This video is not available to view remotely
Full length video - onsite only
Please read Understanding catalogue records for help interpreting this information and Using footage for more information about accessing this film.
Title: DUNOON - HOLIDAYS UNDER SAIL
Reference number: 2873
Date: 1950s
Director: filmed by Don Sawkins
Sound: mute
Original format: 16mm
Colour: col
Fiction: non-fiction
Running time: 15.37 mins
Description: A young couple and their group of friends enjoying the leisure facilities of the holiday resort of Dunoon.

Please note: Although the opening credit indicates there is a 'music arrangement', the film held in the National Library of Scotland Moving Image Archive is mute only [ie. no sound was deposited with the Archive]
Credits: m. arr. M.A. Freeman
Shotlist: Credits. (0.26) Couple arrive at Dunoon by steamer and make their way to hotel (1.35) ms a group of young people place their belongings into a boat; pan over Dunoon from the water (1.56) tracking shots of other boats; ms young tanned people eating sweeties sitting on the side of the boat; views of group playing about; shots of other boats on the water (3.43) sunbathing on the beach; playing with a beach ball (4.22) tracking shots of people on beach; ms sunbathing on deck; standing up, one man is pushed in, he and woman play to camera (5.42) unpacking and raising sail; (6.29) Shots of yachts on the water (7.52) arriving on shore in a row boat; ms girl and boy walking up the pier (8.25) Ashore, enjoying a break in the gardens of a pub. Shot pouring from very large bottle of Courvoisier (9.04) brief shots bonfire at night; a spitted pig at a fair? in daylight (9.26) Evening, dancing in a small room (10.00) gvs yachts racing (15.39) [ecs missing]

Donor's notes - "features 8CR and 12m yachts".