NIGHT AT THE HAP, a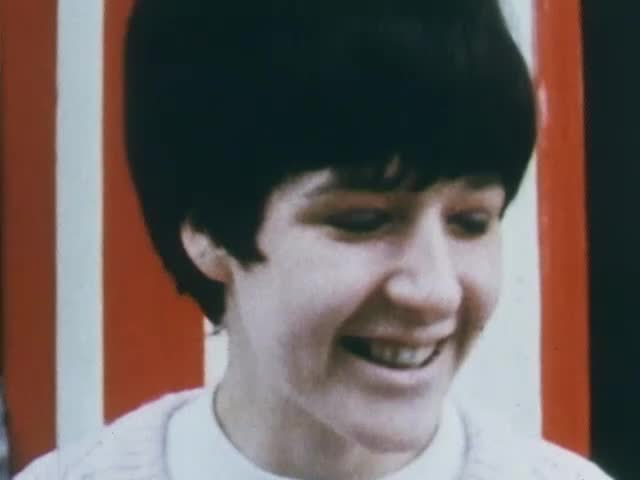 This video is not available to view remotely
Full length video - onsite only
Please read Understanding catalogue records for help interpreting this information and Using footage for more information about accessing this film.
Title: NIGHT AT THE HAP, a
Reference number: 2861
Date: 1962 - 1967
Director: filmed by Luciano Soave
Sound: silent
Original format: std. 8mm
Colour: bwcol
Fiction: non-fiction
Running time: 16.22 mins
Description: Teenagers spending an evening at the Hap Cafe, Dundee.

The Haparanda Cafe owned by film-maker Luciano Soave. It is understood that he named the cafe after visiting Haparanda in Sweden. A friend states that he "loved the place so much, that when he opened his cafe, he named it Haparanda". Opened in 1957 - now demolished.

See also ref. 2862 THE HAP DANCES.
Shotlist: [col.] credits (.07) int. shots of downstairs in the Haparanda Cafe with shots of teenagers dancing and drinking soft drinks as a guitarist sings at the tables (1.18) ext. of cafe with shots of teenagers arriving, including Brian Ritchie with umbrella (2.39) [b/w] int. of cafe upstairs with shots of counter, women selling soft drinks, ices etc. and of teenagers buying ices etc. before going to the downstairs cafe (4.52) [blank insert] (4.55) shot of girls smoking as they sit in front of a poster advertising the 'Hap Discotheque Dancing' (5.36) shots of owner of cafe Luciano Soave handing out tickets to teenagers for the downstairs cafe (6.35) [col.] ext. cafe with shots of teenagers outside (6.54) [b/w] teenagers fooling around outside cafe (7.07) int. of downstairs cafe with girls disco dancing (7.28) [col.] woman serving soft drinks at counter and teenagers sitting in cafe drinking Coke etc. and smoking (11.27) four girls in mini-dresses disco dancing (11.43) [b/w] girls at counter serving ice-cream, teenagers arriving in cafe, buying tickets and fooling about (14.40) [b/w&col] brief shot of girls disco dancing and [b/w] teenagers clapping and dancing to band [The Paladians] (16.22)