VARIOUS PARADES 1943 - 1945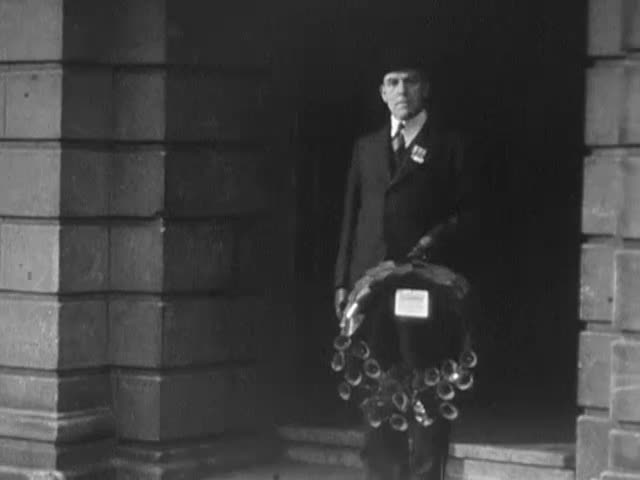 This video is not available to view remotely
Full length video - onsite only
Please read Understanding catalogue records for help interpreting this information and Using footage for more information about accessing this film.
Title: VARIOUS PARADES 1943 - 1945
Reference number: 2845
Date: 1943 - 1945
Director: [filmed by Prentice]
Sound: silent
Original format: 9.5mm
Colour: bw
Fiction: non-fiction
Running time: 19.00 minsc
Description: A Home Guard anniversary parade and various youth parades. Lanimer Day 1943 and a Red Cross fete opened by Lord Dunglass (Alec Douglas-Home, who later served as Prime Minister). Refs. 2835-2846.
[See also refs. 2835, 2836, 2838, 2840, 2841, 2842, 2844].
Shotlist: Third Anniversary Parade of Home Guard 16th May 1943 Wings For Victory Parade 1st May 1943 Provost and local government officials standing in front of Provident Co-operative shop; pipe band; home guard march past; minister and street scene (2.36) Youth Rally 26th June 1943 Parade, headed by pipe band, including Home guard, police, Boy's Brigade; young people in plain clothes; guides; Guides display Scottish Country Dancing; (3.58) Ex-Service Pay Tribute Armistice Day 1943 m/s Ex-Serviceman holding wreath; two men carry wreath into doorway; bugler; march past (5.19) Lanimer Day Lord Cornet's Procession 1943 - Lord Cornets procession; mounted party carrying standard pass by; small boy follows in cowboy costume riding on a donkey; crowd shots (6.38) Red Cross Fete Opened by Lord Dunglass [future P.M., Alec Douglas-Home] shot of platform, Lord Dunglass makes a speech, pigeons are released; pipe band leads procession including fancy dress; c/u Lord Dunglass and unid. man (7.58)Ambulance presented to Red Cross 28.8.44 shot of platform party and crowd, including Girl Guides and Boys Brigade with new Ambulance (8.36) Youth Services Church Parade 10.9.44 First Appearance A.T.C. Pipe Band Pipe band parade before assembled Youth Services, including Guides, Brownies and Boy's Brigade; ms pipe band surrounded by crowds (12.32) pan over assembled parade and platform party; march past, from different angles, including men's and women's services and pipe bands; (16.59) Lanark street scenes near "Central Restaurant"; l/s Town Hall decked with bunting (17.36) [blank] "VJ" shape [night]; torches and bonfire [a gib is visible on top, with a burning effigy hanging into the fire]; c/u Union flag; (c.19.00)