SCOTTISH MOVING PICTURE NEWS: Wedding of John Glaister and Isobel Lindsay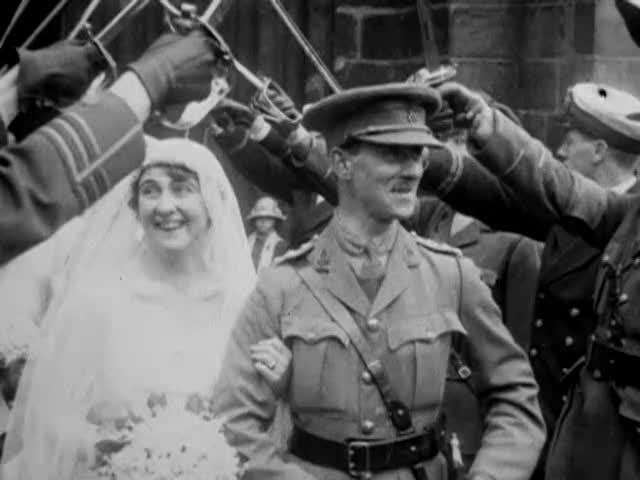 This video is not available to view remotely
Video 1

(currently displayed video)

Full length video - full length available onsite

Guests leave the cathedral after the service, a guard of honour is formed by men in various military uniforms raising swords to make an arch. The bride and groom walk under, smiling very happily. (clip)
Please read Understanding catalogue records for help interpreting this information and Using footage for more information about accessing this film.
Title: SCOTTISH MOVING PICTURE NEWS: Wedding of John Glaister and Isobel Lindsay
Reference number: 2833
Date: 1918, May 25
Production company: Scottish Moving Picture News/ Green's Film Service
Sound: silent
Original format: 35mm
Colour: bw
Fiction: non-fiction
Running time: 0.52 mins
Description: The wedding of Captain John Glaister and Isobel Lindsay at Glasgow Cathedral on 25th May, 1918.

Emeritus Professor John Glaister held the Regius Chair of Forensic Medicine at Glasgow University for 31 years.

Find out more about John Glaister at http://www.universitystory.gla.ac.uk/ww1-biography/?id=699 [last accessed 26/5/2015]

Papers of John Glaister held at Glasgow University Archives ref. GUAS Ref: DC 403/2.

Douglas Lindsay was best man. See also ref. 1659 BRITISH MOVING PICTURE NEWS: Wedding of Alys Couper and Douglas Lindsay.
Shotlist: The Marriage of Captain John Glaister, R.A.M.C., to Isobel Rachel, only daughter of Sir John Lindsay, J.P., D.L., Town Clerk of Glasgow, took place at Glasgow Cathedral. Shot of bride and groom coming out of Cathedral and walking under crossed swords of guard of honour; married couple pause in front of camera, smiling, followed by bridesmaids, guests and minister (0.52)