GEORGE MAY FAMILY FILM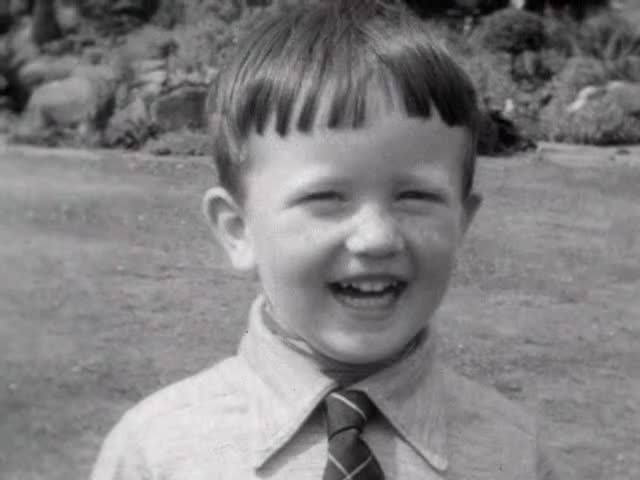 This video is not available to view remotely
Full length video - onsite only
Please read Understanding catalogue records for help interpreting this information and Using footage for more information about accessing this film.
Title: GEORGE MAY FAMILY FILM
Reference number: 2768
Date: 1932 - 1935*
Director: [filmed by George May]
Sound: silent
Original format: 16mm
Colour: bw
Fiction: non-fiction
Description: Holiday activities of the Cargill family of Arbroath, owners of Cargill's Hairdressing Salon.

Family owned hairdressing salon in Arbroath. Ella worked in salon from a teenager to retirement. Family still run the business, 1991. See Ella Cargill's interview about the film in THE WAY IT WAS, p.c. Grampian Television 1991.
Shotlist: Reel 1
[*1935] gvs zoo, people riding elephant (1.05) family playing croquet, wee boy in kilt (Ranald S. May), granny in garden (2.32) Allan Water and Spa Hotel brief shot sign (2.40) out on the river in small boat. Toddler on beach (4.00) toddler in garden with toys (see Reel 3) (5.35) family on beach (7.02)

Reel 2
[*1932] family holidays. Dundee, Firth of Tay from Law Hill (0.43) infant (poss. Ranald May) in pram (1.02) family visiting air show (see Reel 3). In park with infant (1.55) outing by car (2.30) infant and dog (3.34) bathing infant in front of fire (4.50) young girls in garden skipping and dancing and playing in toy car (5.40) 'Gainstead' house (5.50) woman with baby in pram (7.13)

Reel 3
[1935 opening of new open air swimming pool in Arbroath by Earl of Strathmore] gvs crowds, speeches from balcony, mannequin parade (1.30) family in garden - children with toys (see Reel 1) adults larking about (2.52) [*1934] gvs Cargill's Hairdresser's annual Christmas staff party in the Garnet room. Ella Cargill and friends dancing and playing kissing games. Ella at spinning wheel (5.29) [*1932] family visiting air show (see Reel 1) (6.50) ext. hairdressers shop "B.S. Cargill" (7..06) int. of salon - staff walk past camera (7.26) child gets a haircut - woman member of staff pretends to get hairdo. Group of the staff pose by hairdrier (8.04) family group (8.11)