HERRING PACKING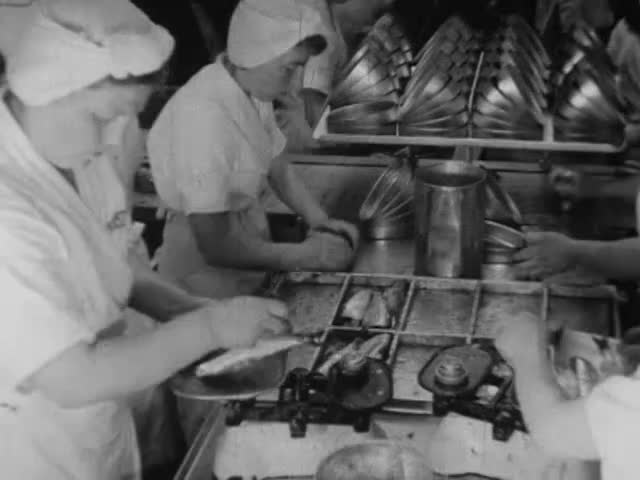 This video is not available to view remotely
Full length video - onsite only
Please read Understanding catalogue records for help interpreting this information and Using footage for more information about accessing this film.
Title: HERRING PACKING
Reference number: 2749
Date: 1952 - 1953
Production company: Crosse & Blackwell Ltd. Peterhead
Sound: sound
Original format: 16mm
Colour: bw
Fiction: non-fiction
Running time: 8:02 mins
Description: A training film for Crosse & Blackwell employees, showing the importance of correctly packing herring tins. Interiors of the Crosse & Blackwell factory as well as shots of a trawler unloading and the fish market at Peterhead harbour.
Credits: produced with the assistance of the Industrial Panel of the Scottish Film Council.
Shotlist: Credits (0.13) gvs trawler coming into Peterhead harbour (0.31) gvs herring catch being unloaded and examined (1.28) ext. Crosse & Blackwell herring packing factory with a lorry arriving with crates of fish (1.29) gvs int. factory, with herring being loaded onto conveyor belt, head first by female worker (2.27) herring are brined in metal buckets (2.45) shots of herring being weighed and packed in cans by female workers; c/u packing process, showing arrangement of fish (4.39) packed fish are carefully slid onto conveyer (5.05) cans are passed under an automatic tomato saucing device (5.31) shots of lids being mechanically put on cans; c/u still of badly packed can; shots of lidding machine jamming; maintenance of machine intercut with cans queuing up; shots of packers waiting (6.47) ms production line working smoothly, packing; sealing; washing (7.27) shot of Crosse & Blackwell van leaving factory (7.35) c/u herring salads being prepared for a meal (7.47) ecs (8.02)