ROYAL SALUTE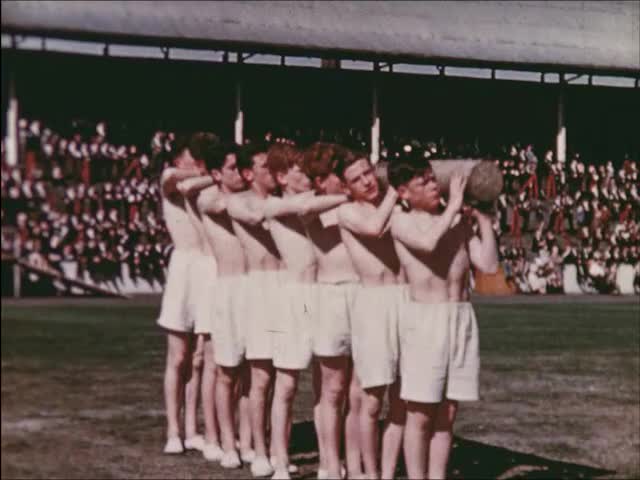 This video is not available to view remotely
Full length video - onsite only
Please read Understanding catalogue records for help interpreting this information and Using footage for more information about accessing this film.
Title: ROYAL SALUTE
Reference number: 2613
Date: 1952, May 17
Director: [filmed by Mr. Beveridge]
Sound: silent
Original format: 16mm
Colour: col
Fiction: non-fiction
Running time: 14.51 mins
Description: HRH Prince Bernhard of the Netherlands taking the "Royal Salute" at Ibrox Stadium, Glasgow. The Boys' Brigade put on demonstrations of various sports, and Scottish country dancing.
Shotlist: REEL 1 - PART ONE
Titles (.15) H.R.H. Prince Bernhard of the Netherlands inspects Guard of Honour at City Chambers, Glasgow and is welcomed by the Lord Provost (1.08) The Display "Royal Salute" Presented at Ibrox Stadium gvs same H.R.H. Prince Bernhard is welcomed by a ceremonial fanfare gvs same (2.17) inspection and march past of platoons (4.10) BB pipes and drums marching (4.47) vaulting horse teams display (5.33) Scottish country dancing "The Dashing White Sergeant" (6.30) BBs in fancy dress doing various sports and games, intercut with shot of seated spectators (7.32)

REEL 2 - PART TWO
The Ceremony of Trooping the Colour gvs same (1.58) "Log-Rhythms" BBs doing series of exercises, lifting logs (2.40) BBs in fancy dress doing various games (3.36) playing various sports, gymnastics etc. (4.32) The Closing Ceremony parade of BBs (5.10) Rt. Hon. Lord Inverclyde introduces H.R.H. Prince Bernhard who gives speech (6.14) band playing hymn and National Anthem, shots of spectators singing (7.03) brief shot of Prince Bernhard leaving Stadium and final march of BBs (7.19)