PATHE GAZETTE No 1465, ROARING GAME, the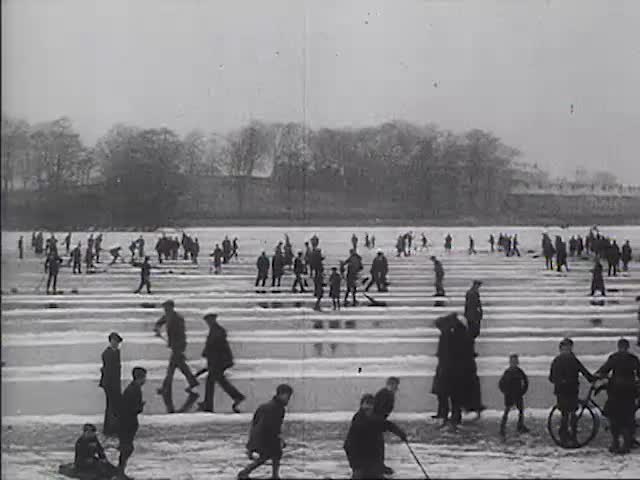 This video is not available to view remotely
Full length video - onsite only
Please read Understanding catalogue records for help interpreting this information and Using footage for more information about accessing this film.
Title: PATHE GAZETTE No 1465, ROARING GAME, the
Reference number: 2580
Date: 1925* - 1928
Production company: Pathe Super Gazette, Gaumont Graphic, Paramount
Sound: silent
Original format: 35mm
Colour: bw
Fiction: non-fiction
Running time: 8.30 mins
Description: "The Roarin' Game" - the curling contest for the Queenshill Cup on Carlingwark Loch, Castle Douglas. Close up shots of men in the curling matches, spectators and skaters on the frozen loch. Includes shots of well-known curler Ian Hewitt (thin man with moustache, wearing soft hat).
Shotlist: Credits. THE ROARIN' GAME The Curling Contest for the Queenshill Cup takes place on Carlingwark Loch, Castle Douglas gvs people on the frozen loch - some curling, standing, one boy riding a bicycle (.10) c/u women putting on ice skates (.20) c/u men curling and of spectators (1.44) THE ROARIN' GAME Scottish Curlers out in great force - and voice - at the Castle Douglas Queen's Hill Cup Contest gvs men curling, and people skating intercut with shots of curlers taking a 'dram', a man walking his dog over the frozen loch, c/u shots of spectators (5.01) Castle Douglas The Roarin' Game at Carlingwark Club Loch Gaumont Graphic l/s curling matches on individual 'rinks' c/u curling matches including 'sweepers' (7.00) shot of the winning team with the trophy (7.20) ecs (7.24)