WILLIE GALLACHER AND FUNERAL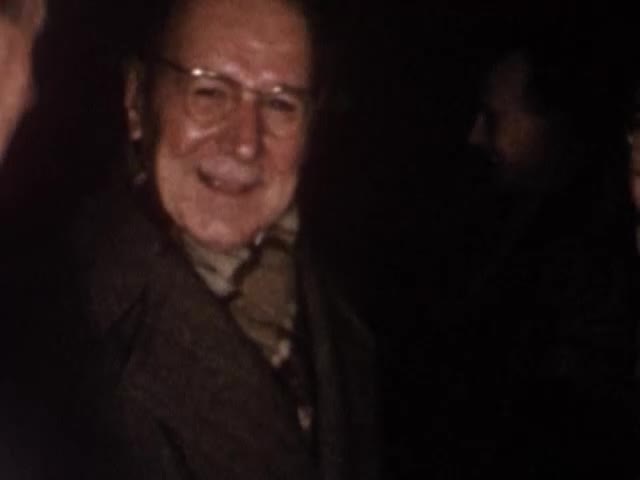 This video is not available to view remotely
Video 1

(currently displayed video)

Full length video - full length available onsite

Crowds of onlookers watch as Willie Gallacher's funeral procession passes through the centre of Paisley, his coffin draped in the Communist Party Central Committee banner. (clip)
Please read Understanding catalogue records for help interpreting this information and Using footage for more information about accessing this film.
Title: WILLIE GALLACHER AND FUNERAL
Reference number: 2508
Date: 1961 - 1965
Director: [filmed by William McQuilken]
Sound: silent
Original format: std. 8mm
Colour: col
Fiction: non-fiction
Running time: 7.14 mins
Description: Footage of the 80th birthday celebrations of Willie Gallacher in St. Andrew's Halls, Glasgow with speeches and the presentation of a bronze bust of Willie Gallacher. Shots of the funeral procession for Willie Gallacher through the streets of Paisley with the coffin draped in the Communist Party Central Committee banner. [See also refs. 1912, 2506, 2507].

A copy of this film also held in the local history dept. of Central Library, Paisley.

[Following information from http://www.paisley.org.uk/famous-people/willie-gallacher/ last accessed 25/05/2018]

William (Willie) Gallacher was born in 1881 in Paisley, Scotland. An engineering worker by trade, Gallacher first became involved in Labour politics in 1905 when he became a member of the Independent Labour Party. However, Gallacher soon became disillusioned with the reformist policies of the party and left to join the more radical Social Democratic Federation which soon became the British Socialist Party.

As one of the leaders of the Clyde Workers' Committee (CWC) during the first world war, Gallacher played a prominent role in the 'dilutions' disputes on Clydeside and was imprisoned twice during these years. As a former chairman of the CWC he represented the Clyde shop stewards at the second congress of the Communist International in Moscow in 1920, where he met Lenin who convinced him of the need for a communist party. Gallacher was one of the founders of the Communist Party of Great Britain in 1920 and a member of its central committee from 1922 to 1963.

In 1935 Gallacher was elected MP for West Fife after six years involvement in the miners' struggles. He continued to represent the constituency until 1951 and for a long time was the only communist MP in the House of Commons, until he was joined by Phil Piratin in 1945. Gallacher was chairman of the Communist Party until 1956, when he became president, a post which he held until 1963. Willie Gallacher died in 1965.
Shotlist: (0.00) [no title or credits] Shots of Willie Gallacher at side of his house, 68 Rowan Street, Paisley with Mrs Ada McQuilken (0.10) -blank- (0.15) Shots of friends at Gallacher's 80th Birthday Celebrations in 1961 at St. Andrew's Halls, Glasgow. Shot of the French Representative and Willie and his wife Jean. Speeches are made; Finlay Hart, the Chairman, Willie Gallacher, John Gollan, W. Lauchlan, J. R. Campbell, Gordon McLellan, Margaret Hunter, Peter Kerrigan, Bert Ramelson, Nancy McLellan and W. Gallacher, nephew of Willie Gallacher (3.23)Shots in Gibson Tea Room, Paisley. Shots of Willie Gallacher accepting present and cutting cake. Shots of Willie Gallacher reading "10 Days that Shook the World" in his house. Shots of Willie Gallacher and his wife Jean in front of bronze bust (now in Paisley Museum) presented by his Soviet friends. Shots at Paisley Cross with friends, including "Jeemuck" Stirling (3.41) -blank- (3.45) Shot, taken from roof of building, of funeral procession as it passes up Causeyside Street and through Paisley Town Centre, the streets thronged with crowds. Shots of the coffin draped in the Communist Party Central Committee banner. Shots of lone piper outside Woodside Crematorium and shots of mourners and wreaths (7.14)