GORBALS OLD GORBALS NEW - ONE WOMAN'S STORY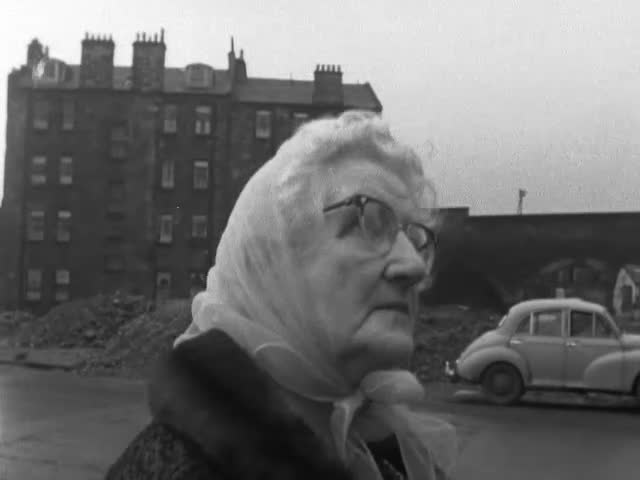 This video is not available to view remotely
Full length video - onsite only
Please read Understanding catalogue records for help interpreting this information and Using footage for more information about accessing this film.
Title: GORBALS OLD GORBALS NEW - ONE WOMAN'S STORY
Reference number: 2471
Date: 1966c
Director: d. Rada Radosevic
Production company: Thomson Foundation Television College
Sound: sound
Original format: 16mm
Colour: bw
Fiction: non-fiction
Running time: 12.40 mins
Description: Footage of the demolition of the Old Gorbals and the construction of the new Gorbals with an interview with a resident who had lived in the Gorbals before its re-construction.

Please note sound levels are low and the soundtrack is out of sync with picture at the start.
Credits: cam. John McNairn
Shotlist: Credits intercut with shot of building site in the Gorbals and talking head of woman who had lived in the Old Gorbals [sound is out of sync] (.39) l/s and c/u of woman walking past demolished slum tenements and derelict tenements (1.00) shots of tenements being demolished in Hospital Street (1.53) c/u of tenements derelict and half demolished and shots of earth diggers razing ground and tenements being demolished (3.29) shot of a small boy and a dog walking in the rubble (3.50) l/s of horse-drawn cart with traffic in background and wasteland in the foreground (3.57) gvs children playing in the rubble while diggers and trucks raze the ground and buildings are demolished (5.13) l/s of Old Gorbals tenements, still standing, tenements half demolished and new high-rise flats in the background (5.47) shot of two small boys playing by a fire in a building site (5.59) gvs trucks and diggers at work as local people walk through building site (6.27) gvs of new high-rise flats under construction and those already constructed (8.23) gvs new pub and shopping centre (9.25) gvs old Gorbals buildings beside modern high-rise blocks (10.08) l/s woman walking by new blocks (10.27) gvs playground in new development (10.35) panning shot from a Gorbals church to new high-rise blocks (10.40) gvs new high-rise flats (11.39) gvs of woman walking along stone flagged pavement underneath the concrete supports of a new block of flats (12.10) ecs (12.40) [sound contimues past end of picture c. 1 min 13 secs]