PEACE DEMONSTRATION, CLYDEBANK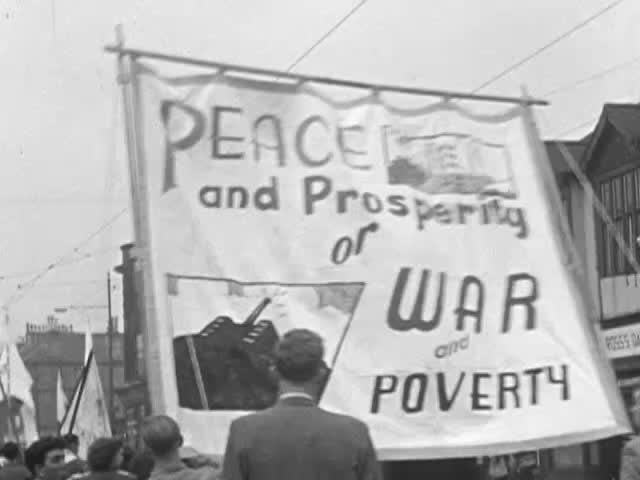 This video is not available to view remotely
Video 1

(currently displayed video)

Full length video - full length available onsite

Peace protesters, mostly young people, gather at Clydebank, laying out banners and assembling in preparation for the demonstration march ahead. An impressive turnout! (clip - full length available onsite)
Please read Understanding catalogue records for help interpreting this information and Using footage for more information about accessing this film.
Title: PEACE DEMONSTRATION, CLYDEBANK
Reference number: 2397
Date: 1952
Director: [filmed by a member of the Dawn Cine Group]
Sound: silent
Original format: 16mm
Colour: bw
Fiction: non-fiction
Running time: 15.15 mins
Description: Possibly a film of the Youth Festival held in Clydebank on 28th September 1952, it shows a campsite and various sports taking place. Crowds gathering for a demonstration and groups carrying banners including "World Youth Friendship and Peace" and "Ban the Atom Bomb".

See Additional Information file for article in Clydebank press, 3rd October 1952.
Shotlist: No credits. Shots down to housing, sports ground (0.51). Men erecting a marquee. Campsite [possibly for participants at the Youth Festival] (1.15); Gvs campers and visitors in city clothes (1.58); Meeting at campsite, games, mealtime (3.50); Sports ground [as seen in opening sequence]. Gvs races, polo on bicycles, etc. (4.36); ints An accordion player. Demonstration Scottish country dancing [dark]. Gvs other performances, photographed from wings [dark] (6.00); Clydebank. [Clyde Street?] Crowds assembling for parade. Gvs parade and shots of various groups with banners reading "World Youth Friendship and Peace", "Glasgow Young Communist League", "Ban the Atom Bomb", "British Youth Peace Festival", "Cut Conscription". Parade passes Clydebank Central Station and enters park [Mountblow] (12.00); Shots of assembled crowd listening to speeches from balcony [possibly including Revd. W. McRoberts of Clydebank] (14.59); Gvs sports ground and houses in the vicinity (15.15).