SEALING WAX AND WAFERS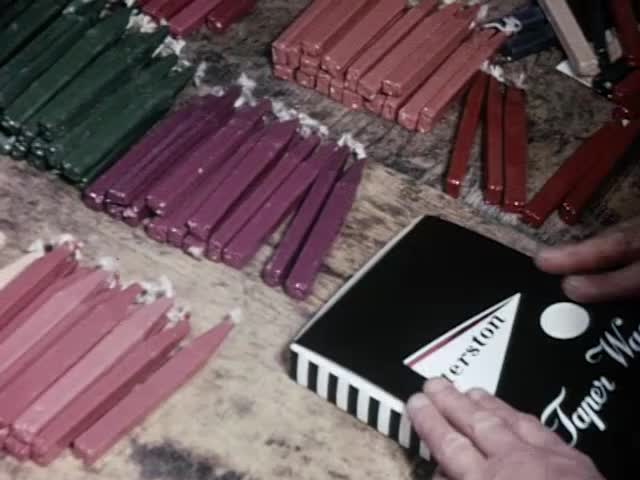 This video is not available to view remotely
Video 1

(currently displayed video)

Full length video - full length available onsite

Minnie Ford and Danny Docherty making taper wax in Waterston's casting shop in Edinburgh. (clip)
Please read Understanding catalogue records for help interpreting this information and Using footage for more information about accessing this film.
Title: SEALING WAX AND WAFERS
Reference number: 2312
Date: 1966
Director: d. Ian Brock
Sponsor: George Waterston and Sons Ltd.
Production company: Grange Film Productions
Sound: sound
Original format: 16mm
Colour: col
Fiction: non-fiction
Running time: 21.00 mins
Description: A promotional film for George Waterston and Sons of Edinburgh, Wax Chandlers. This film shows interiors and machinery of the firm's old wax making factory at St. John's Hill, just prior to demolition. Traditional methods for production of sealing wax and wafer seals are shown, introducing the people who made them at each step.
Credits: commentary Pat Hogg
sd. Dave Graham
lighting Bill Hill
production assistant Fiona Brock

Workers Cathy Finlayson, Nancy Croy, Margaret Nelson, Alec Donald, Minnie Ford , Danny Docherty, Bella Hunter, Chrissy McKinley, Margaret Wright, Angus MacKay, Tom Morton, Bobby Pride, Helen Roy
Shotlist: Credits (0.40); General views of construction sites in city of Edinburgh. Exterior of house in St John's Hill in Edinburgh, home of several generations of the Waterston family. Brief history of the family and their beginnings as wax chandlers (2.00); Wax factory premises at St John's Hill. Whiting is sifted into a drum (2.38) gvs sealing wax and weighing materials used to make it; shellac, dyes, pine resin (5.10) gvs process of making wax mixture on a stove, searching (sieving) and moulding (8.30) The wax is separated into sticks and polished by heaters (10.08) process of making wax sticks by hand, c/u shot wax bottle-top (11.30) tea break (11.37) Shot of Robert and Jim Waterston looking up to Arthurs Seat (12.00) Taper wax casting shop. (13.10) Paste wafer shop "made from... flour, red lead and water". Examples of wax wafers used for imprinting seals. (15.40) Modern uses of wax wafers and sealing wax. (16.10) Packing and despatch department. Furnace (20.00); Exterior of new factory premises about to be opened (21.00).