I REMEMBER, I REMEMBER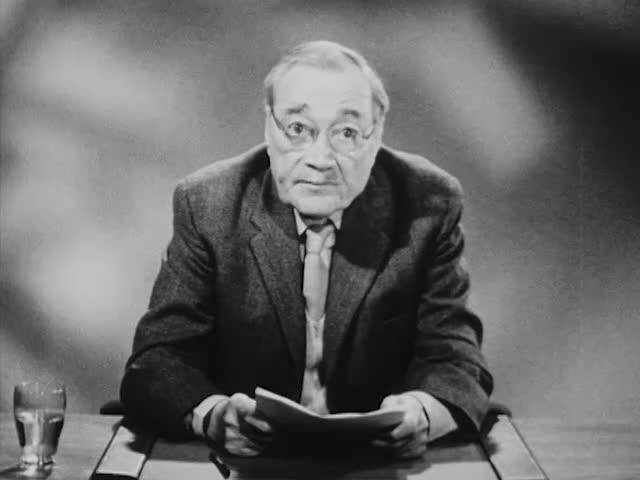 This video is not available to view remotely
Full length video - onsite only
Please read Understanding catalogue records for help interpreting this information and Using footage for more information about accessing this film.
Title: I REMEMBER, I REMEMBER
Reference number: 2232
Date: 1968*
Director: d. James Sutherland
Sponsor: Films of Scotland
Production company: Scottish Television
Sound: sound
Original format: 35mm
Colour: bwcol
Fiction: non-fiction
Running time: 53.08 mins
Description: A personal account by John Grierson of a life spent in documentary film-making, including his early life in Stirling.

Screened at 1968 Edinburgh Film Festival to mark John Grierson's 70th year. Shown at Melbourne Film Festival, 1969.

Paper archive file including script.

See also Canadian Version 1970 Differences between version made in Scotland in 1968 and the Canadian version:- Grierson re-recorded intro and pieces to camera. Whilst expanding upon the script to an extent (3.25 mins), its overall theme and tone appear the same. Grierson, however, appears to have aged considerably in the 2 years(died in 1972) aged 74. 1968 script is in the file and Grierson follows this to the letter. The b/ground is minimalist, all he has is a glass of water and a script on the desk. In 1970, he is sitting at a desk with more material and a bookcase in the b/ground. Film extracts are identical apart from first few seconds of reel 2. (Shots on board ship as the sailors tend to the sails and the rigging before montage of chimneys) is included from INDUSTRIAL BRITAIN see ref. 0908.
Credits: Films of Scotland and Scottish Television present I REMEMBER, I REMEMBER by John Grierson. A Scottish Chapter in the Documentary Story.
w. John Grierson
tv ed. Harley Jones
tv d. James Sutherland
Shotlist: REEL 1
titles, (0.30) Grierson at desk talking to camera about the development of the documentary film as an art form. (1.41) Camera slowly moves in to medium c/u Grierson talking head about his own life which begins in Stirling (3.15) [extract from HEART OF SCOTLAND and SONG FOR PRINCE CHARLIE] (7.24) medium c/u Grierson talking head to camera (7.47) [Extract from HEART OF SCOTLAND and INDUSTRIAL BRITAIN] (10.06) medium c/u Grierson talking head to camera talking about Drifters (10.38) [Extract from DRIFTERS] (14.01) spacer (14.05) [Extract from GRANTON TRAWLER] v/over Grierson talking about Granton Trawler the Isabela Gregg which was lost at sea (17.38) MV Grierson talking head, (18.47) c/u Grierson talking about industrial work and Industrial Britain (20.42) (1864ft)

REEL 2
[Extract from Industrial Britain & COALFACE] (5.25) c/u Grierson talking about IB, Coalface and Night Mail (6.39) [Extract from NIGHT MAIL] (12.03) MV Grierson talking head about Glasgow and Seawards.. (13.23) [Extract from SEAWARDS THE GREAT SHIPS]
(20.01) medium c/u Grierson talking head, discussing cinema as visual art and talking about The Big Mill (21.35) (1945ft)

REEL 3
[Extract from THE BIG MILL] (3.50) medium c/u Grierson talking head summing up documentary film history in Scotland (4.51) [Extract from HEART OF SCOTLAND] (10.15) ecs (10.49) (973ft)