AIR CANADA SILVER BROOM 1969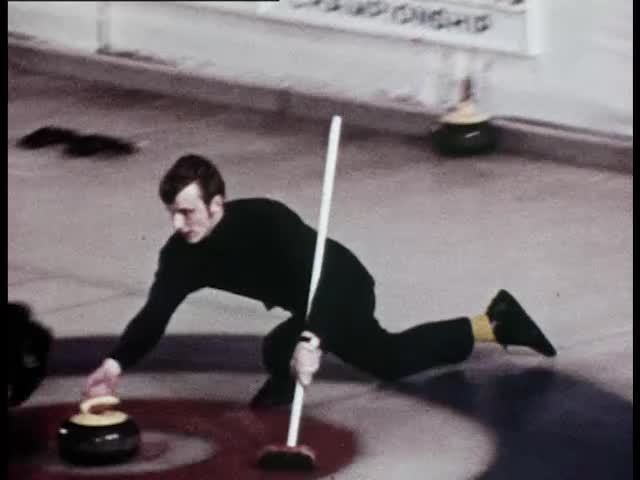 This video is not available to view remotely
The young Swedish team dominate the final end of the match against Scotland in the 1969 World Curling Championships in Perth. (clip - onsite only)
Please read Understanding catalogue records for help interpreting this information and Using footage for more information about accessing this film.
Title: AIR CANADA SILVER BROOM 1969
Reference number: 2130
Date: 1969
Sponsor: Air Canada
Production company: Briston & Creative Films Ltd.
Sound: sound
Original format: 16mm
Colour: col
Fiction: non-fiction
Running time: 31.00 mins
Description: Coverage of the World Curling Championships with a short introduction on Scotland and the host town of Perth. The Scottish team were beaten in the semi-final by the USA, who in turn lost to the Canadian team who received the Silver Broom that year. [One of a series of films made by Air Canada, sponsors of the Silver Broom world curling championship.] See also ref. 2131.
Credits: p. Leo Thompson
ph. Morgan Coote
sd. Bob Mason
sc. Frank Williams
nar. Frank Williams

Air Canada presentation
Sanctioned by the Royal Caledonian Curling Club affiliated World Championship Associations for the Air Canada Silver Broom.
Shotlist: gvs Alloway, Burns Cottage c/u sign, Poosie Nansies Hostelry (0.22) gvs Scottish countryside and churches; pan over car travelling through (0.40) Church of St. John the Baptist in Perth; pan over city; street scenes in Perth; c/u various pubs; ints cattle auction (1.54) crowds of spectators file into rink (2.24) pipe band march over ice; Title (2.48) gvs Opening ceremony; speech by Tom Stewart chief of the Perth organising committee; Jack Bowen, Air Canada rep.; Earl of Elgin President of the Royal Caledonian Curling Club; clubs shake hands and exchange pennants (3.43) Switzerland vs. Sweden; Switzerland win 10-8 (5.33) USA vs. Canada; USA win 12-10 (7.46) Scotland vs. Sweden c/u Bill Muirhead, Scottish skip. Sweden wins 10-7 (9.47) Germany vs. France Germany wins 14-11 (10.47) USA vs. Sweden. Sweden win 9-8 (12.31) France vs. Canada Canada win 9-4 (13:45) Norway vs. Germany (14.32) Canada vs. Scotland Canada 9-8 (15.48) Scotland vs. USA Scotland USA 7-5 (21.09) Final between USA and Canada Canada win; shot of TV camera, recording event for satellite TV [live feed?] (26.28) Award ceremony; Tom Stewart introduces Mr Pratt (CEO Canada Airlines) who awards the silver broom to the winning skip (26.26) ecs (26.47)